To beat or not to beat?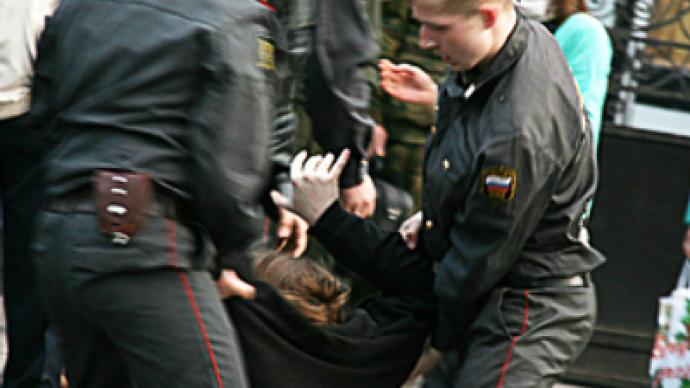 Turning the other cheek may be just an old sermon – voluntary for execution – but when it comes to the Russian police, it is a must.
The country's criminal code penalizes resisting the police with a sentence of 12 years to lifetime behind bars – a norm that, many argue, is turning Russian cops from guardians of law and order into their main offenders. So when the country's interior minister said citizens can hit back at the police, some in the country accused him of being a Pharisee.
Dead meat
It was a late Monday evening. A 19-year-old Eduard Gurtskaya and his friend had just had a quick bite at a McDonalds when three policemen approached them to check documents. The officers were already off duty and spiked by beer, but still wearing their police uniform and carrying batons. A few minutes later they left the scene leaving Eduard bleeding to his death. Eye witnesses later said the teenager didn't even tried to resist, just clutched his arms around his head.
The police authorities initially suggested the attackers might not be ones of their own and were simply dressed as policemen, but a few hours later the three were apprehended. The next day their commander was fired, while the Moscow police chief offered his personal apology to the family of the deceased.
While police brutality has long stopped being something out of the ordinary in Russia. In the same month, an officer in St. Petersburg was detained for beating to death a suspect in his custody, while a policeman in Tyumen was charged with raping an elderly woman – whereas the McDonalds beating surprised most with a lack of any cover-up. Indeed, a few days later, Russia's Interior Minister Rashid Nurgaliyev even said people should be permitted to resist police who attack them without cause.
"We should not to stifle or cover up the situation. We have to evaluate it properly and outgrow it – everybody from a district policeman to the chief."
"May a citizen hit back at a policeman who has attacked him?" Nurgaliyev was asked. "Yes he may; if he is not a criminal, if he is walking along quietly and breaking no rules."
Protection from the watchmen
While Nurgaliyev acknowledged that a Russian law that prohibits the use of violence against police in self-defense should be scrapped, many analysts described his statements as premature and irresponsible.
"I think it is a misunderstanding… I refuse to believe that the minister could say such a thing… If we call on our citizens to have running battles with the police, we will go a long way… How can a citizen prove that he was indeed attacked if a policeman is always considered to be on duty?" said high-profile attorney Anatoly Kucherena.
Legally, policemen are considered to be on duty "always and everywhere," regardless of their rank, time and place. The only thing the law requires a police officer to do is to show his credentials.
While the country's laws recognize a citizens' right to self-defense "regardless of their professional background or social status," most analysts agreed that Russian laws define it very loosely.
"It is a very fine line that is supposed to be decided by court," said human rights campaigner Ludmila Alexeyeva. "And while in disputes between ordinary citizens, courts are usually trying to ascertain what really happened, whereas in legal battles between citizens and the powers that be – citizens often lose, even when the law is on their side."
In the event of police violence, citizens will have to prove they acted out of fear for their life – a charge many lawyers say is very difficult to prove.
"You will never be able to say that a policemen acted unlawfully," said Igor Trunov, a Moscow lawyer who represents the victims of a supermarket shooting in April when police Major Denis Yevsyukov killed two people and wounded seven more. "You will never be able to prove that a policeman was drunk, for instance, because nobody would order any examination in the first place… If you resort to self-defense as the minister calls for and, in doing so, threatened the life of a policeman, the least you should expect is 12 years behind bars."
Oksana Boyko, RT