Russia and Poland: overcoming 20 years of distrust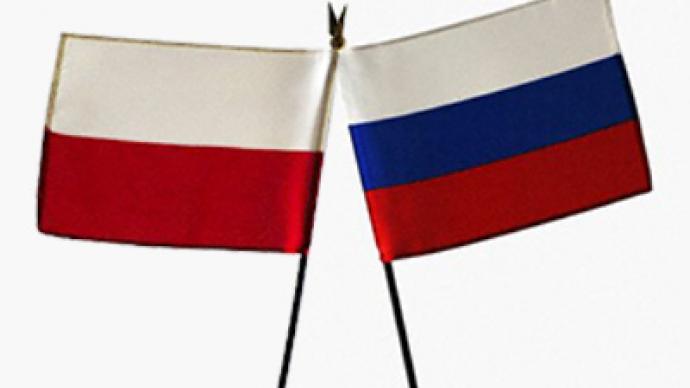 After years of extremely tense relations, Russia and Poland are now seeking cooperation. Political analyst Irina Kobrinskaya shared her views with RT on the thorny path of the two states from ice age to the current thaw.
Russia's Foreign Minister Sergey Lavrov arrived in Warsaw on Wednesday to meet his Polish counterpart Radoslaw Sikorski, and discuss cooperation between the two states. Russia's top diplomat has also met President Bronislaw Komorowski to discuss President Dmitry Medvedev's upcoming trip to Poland at the beginning of December. Earlier this week, the Polish government gave its approval to an agreement with Russia on increasing Russian natural gas supply to Poland.
Such intensive dialog and cooperation between Moscow and Warsaw was unthinkable two or three years ago. According to political analyst Irina Kobrinskaya, there can be no return to the past and ties between the countries will only get better.
RT: How would you describe the relationship between Russia and Poland at this point? Would you say they had a "reset" of their own?
Irina Kobrinskaya, political analyst

- Senior Research Fellow at the Institute World Economy and International Relations (IMEMO) of the Russian Academy of Sciences

- received PhD from the Russian Academy of Sciences' U.S.A.-Canada Institute

- worked for the Institute of Political Studies of the Polish Academy in Warsaw (1988-1992)

- worked for Carnegie Moscow Center, where she coordinated the program "Russia and Its Neighbors"

- founded the Moscow Center of the New York East-West Institute, which she directed (1998-2001)

- author of monographs and articles on foreign and domestic policy and international security, editor of several books

Irina Kobrinskaya:You can call it a reset, or you can call it a thaw. I would rather say it's a thaw. The main thing, I believe, is that this relationship has positive dynamics and a positive momentum. And this momentum did not start in spring, when the Smolensk tragedy happened [the plane crash on April 10, in which President Lech Kaczynski was killed]. It started much earlier.
Personally, I first noticed this trend in January 2005, when Poland marked 60 years after Soviet troops liberated the Auschwitz death camp. Then President Vladimir Putin went to Krakow to attend the ceremony.
Prior to that, the relationship was not good. Ever since Poland became independent from the Soviet Union, from Comecon, from the Warsaw Pact, ever since the USSR collapsed, the relationship was only getting worse. Various factors contributed to this: personal issues and conflicts, and the fact that Poland was very determined to pursue its own policy. Its policy was absolutely logical and well-founded. It was based on Poland's security and economic interests. Its objective was to join the EU and NATO. It would be an exaggeration to say that the relationship was mended in 2005. It was from being friendly. Still, Putin went to Poland.
Irina KobrinskayaAfter that, there was a period of two twins. One of them [Lech Kaczynski] was president, and the other one [Jaroslaw Kaczynski] was prime minister. The latter ran for president in the snap election after the plane crash. While this tandem was in power, Poland managed to ruin its relationship not only with Russia but also with the rest of Europe. The two brothers' foreign policy was strange, to put it mildly.
After Donald Tusk became Polish prime minister [on Nov. 16, 2007] and visited Moscow [in February 2008], the situation began to improve. Now there was good chemistry between the two parties. Tusk had a meeting with Putin, who was still president at the time. Tusk made an amazing statement, which became the motto of Poland's new policy with respect to Russia. He said that Poland should have a dialogue with Russia "as it is." In other words, don't try to change Russia. Don't expect something different. You have a huge country with many important connections as your neighbor, and many countries, including Poland, depend on it for their energy. And that's the kind of Russia that you should talk to. From that point on, the relationship between Russia and Poland began to improve. Mutual visits became more frequent.
On Sep. 1, 2009, Putin, who by that time was prime minister, went to Westerplatte, and that was real courage. [On Sep. 1, 1939, the German battleship Schleswig-Holstein bombarded Westerplatte, a peninsula in Gdansk, Poland, thus starting World War II. The Polish garrison of Westerplatte, which consisted of only 182 soldiers, repelled attacks by a much larger German force for six days. – RT] Before his visit, Putin published an article [in the Polish newspaper Gazeta Wyborcza], in which he gave a very accurate description of the Russian-Polish relationship. In the article, Putin did not beg that Poles forgive Russia for past offences. There was no breast-beating. But it was a very fair and balanced article. Poles thought it was really brave of Putin to come on that visit and appreciated it.
RT: How did the plane crash outside Smolensk, in which President Lech Kaczynski was killed, affect the relationship?
IK: The Smolensk tragedy caused a very emotional response. Many Poles, who earlier refused to believe that Russia can be compassionate and humane, now realized that our country is capable of experiencing human emotions.
Another factor that contributed to the thaw between our two counties was that the Katyn issue, which for years was a bone of contention, has been practically closed. Russia agreed to declassify its archives. In addition, Russia and Poland set up a commission "for complex issues stemming from the history of Russian-Polish relations," and this group has been working quite effectively for a number of years now.
Today, Poland's approach to relations with Russia is very proper. In the past, Poland thought it should have a big say in the EU's Eastern policy, i.e., the EU's policy towards Russia and former Soviet republics. Poland thought that the tougher its stance is, the more other EU members will respect it. But now Warsaw has finally realized that by improving the relationship with Moscow it will, among other things, strengthen its position in the EU, because the EU is interested in cooperation with Russia. So, hopefully, now there can be no return to the past.
RT: What other goals does Poland have besides achieving a higher status in the EU? How does the issue of energy—and, more specifically, natural gas—affect this matter? And how can Russia benefit from this situation?
Key points in Russian-Polish relations over the past 20 years

- the 1990s – after the collapse of the USSR, the relationship is very poor; practically no dialogue between the two countries

- January 2005 – President Vladimir Putin goes to Poland to attend the ceremony marking 60 years after Soviet troops liberated the Auschwitz death camp

- 2005-2007 – the tandem of the Kaczynski brothers comes to power in Poland. Warsaw ruins its relationship with Russia and with the rest of Europe

- February 2008 – Poland's newly-appointed Prime Minister Donald Tusk visits Russia. The relationship begins to improve

- Sep. 1, 2009 – Russian Prime Minister Putin goes to Westerplatte; Poles commend him for his courage

- April 10, 2010 – the tragedy in Smolensk causes a very emotional response; Poles realize that Russia is capable of experiencing human emotions; Russian television shows the Polish film Katyn

IK: As for Poland's status in the EU, Poles have changed their views. If you take a look at political debates inside Poland, you will see that Jaroslaw Kaczynski's party, Law and Justice, retains the old approach. It thinks that Poland should take a hard line. But Civic Platform, the party which won the election, believes the opposite. It says that by normalizing relations with Russia Poland will make its contribution to Europe's development.
Now, as regards energy, it is a rather complex issue. You can't deny that Poland and the EU in general depend on Russia, and they want to get away from this dependence. But they won't, because for at least another 10-15 years the EU won't be able to find an alternative to Russian energy carriers. It is possible to decrease this dependence but it's impossible to get away from it completely. So, realistically, the goal is to have a balance of interests between consumers and producers, which, in this case, is Russia.
Actually, this dependence has long become mutual. What will Russia do with its energy carriers if it can't sell them to Europe? Of course, some natural gas pipelines go to the East, but only some. So, Russia and Europe's interdependence should lead to a legal agreement, which will make both parties confident that, come January 1, there won't be another crisis and Poland or, say, Slovakia won't face the prospect of freezing. This means that the talks should include Ukraine and Belarus as well. Gradually, all these countries are coming to this realization. It's impossible to resolve this issue simply by having a bilateral agreement between Russia and Poland.
Other national interests include the interests of people who like to travel and business people who want to invest money. If the relationship improves, Russian companies will have more opportunities to invest in Poland, because at this point Poland and European countries in general view Russian investors somewhat negatively. Of course, Polish companies, too, will be able to invest more in Russia.
Now, as for cultural and humanitarian ties, the thaw between Moscow and Warsaw produced positive dynamics in this area as well. On the night of the Smolensk tragedy, Russian television showed a film called Katyn by Polish director Andrzej Wajda. Many Russians were impressed by this powerful film. We are overcoming 20 years of distrust.
RT: NATO Secretary-General Anders Fogh Rasmussen suggested inviting Russia to develop a joint missile defense system. But Poland, represented by National Defense Minister Bogdan Klich, objected to the idea. How do you explain such a statement in the context of the thaw between Moscow and Warsaw?
IK: You need to remember that this matter has several levels. First, the defense minister does not have the final say on the issue. There are three parties: Russia, NATO and the United States. The United States, definitely, is the leading member of NATO. When the previous US administration wanted to set up missile defense installations in the Czech Republic and Poland, those installations were part of the US national security system. By the way, European NATO members, such as Germany, were not too excited about those plans. They prefer developing a joint missile defense system. Currently, we see some progress. There are some indications that the parties are ready to meet each other halfway. Military experts say that a joint missile defense system would be very instrumental in overcoming distrust and leaving behind the Cold War legacy.
Once the political decision to develop a joint missile defense system is made, experts can start working. Of course, technologically, this is a rather complicated project, and it will require some time. Also, it very well may lead to further disarmament in Europe—including tactical nuclear weapons, which are not covered by any of the existing treaties. And tactical missiles are exactly the kind of weapon that would pose a threat to Poland in case some conflict suddenly escalates. So, logically speaking, Poland should support the idea of developing a joint missile defense system. And it seems to me that there is the political will to do so at the top level.
RT: How can you explain Poland's position in the case of Chechen separatists' representative Akhmed Zakayev? He was detained in Poland in September but released the next day. On Oct. 26, a Warsaw appellate court threw out a challenge of the release, even though Zakayev is on the international wanted list after Russia charged him with organizing illegal armed groups and terrorism. Yet Poland says it will continue to consider extraditing him to Russia.
IK:First of all, he is already extradited. He is no longer in Poland.
RT: No, that's because he "extradited" himself back to the UK.
IK: You know, this entire situation looks farcical. Judging by comments in the Polish press, when

Poland's position in the case of Chechen separatists' representative Akhmed Zakayev

- all players benefited from this situation

- Zakayev, who caused a minor setback in otherwise positive Russian-Polish relations, got publicity

- Moscow got an opportunity to declare its position and deal with the situation without a scandal, through diplomatic channels

- Warsaw showed goodwill towards Russia and at the same time demonstrated that it's a loyal member of the Western community

Zakayev came to Warsaw, everybody got something for themselves out of this situation. Zakayev, who was missing publicity, once again appeared on front pages. So, he got publicity. Russia got an opportunity to clearly declare its position. In other words, it demanded extradition and called Zakayev terrorist. At the same time, Russia had an opportunity to resolve this situation with Poland quietly, through diplomatic channels, without a scandal. Poland, for its part, got an opportunity to show goodwill towards Russia. After all, it did detain Zakayev, if only for a day. At the same time, Poland once again demonstrated that it's a loyal member of the Western community. So, each party scored some points without losing anything. I think Zakayev caused only a minor setback in the otherwise positive relationship.
Chechnya was a big issue in Poland in the 1990s and the early 2000s. Poland hosted congresses of Chechen people. But after a group of Chechens attempted crossing into Germany and were stopped at the border  and in general, considering the difficult situation in the North Caucasus, I think Poland is somewhat tired of this and doesn't want to raise tensions over this issue. Poles don't need it, especially after the situation with Gypsies in the EU.
RT: How should Russia build its relationship with Poland and other countries in Eastern Europe? How to avoid anti-Russian sentiment, double standards and other problems?
IK:First of all, Poland is not Eastern Europe. Eastern Europe is Belarus and Ukraine. This is important because Poland, Hungary, the Czech Republic and Slovakia are the heart of Europe. Now, Russia should build its relationships with these countries the same way it builds relationships with the rest of Europe. These countries have long joined NATO and the EU. So, whichever way you look at it, even from the legal point of view, the only way you can build relationships with them is the same way you deal with all the other EU members.
At the same time, of course, our languages are similar, and we have closer cultural ties with these countries than with some other European nations. It will be wonderful if we manage to cultivate these ties. In some way, we need to persuade these countries not to oppose the EU and NATO's plans to develop closer ties with Russia—which is what they have been doing so far. And, basically, their position is understandable and quite logical. We need to get them interested in developing cooperation, so that Russia is little by little integrated into Europe. I'm not saying that Russia should join the EU and NATO.
But it's important to develop economic and security ties. If we get these countries interested in such a development, Russia will benefit from it.
What does it take? All it takes is we need to be nice to them. Don't humiliate them; respect them. Back in the '90s, Russia's position was, "We won't talk to Poland; we will only talk to Germany, France and the US,"—which only made talks all the more difficult.
Natalia Makarova, RT