Russia: 'We'll only return to PACE after sanctions lifted'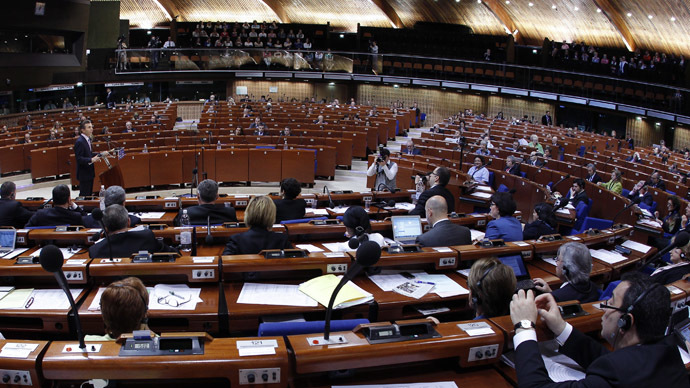 Russia's State Duma has passed a statement detailing conditions of resuming dialogue with PACE, claiming nations who repeatedly violated international law causing thousands of casualties have no moral right to judge Russia or impose sanctions on it.
MPs said in the document that they consider it impossible to resume the dialogue at PACE when the sanctions against Russia are still in force.
The statement is a result of the anti-Russian resolution approved by PACE on April 10 in connection with the current political crisis in Ukraine. The European body deprived the Russian delegation of the right to vote and banned it from participation in PACE's ruling bodies and monitoring missions till the end of the year.
Russia's representatives walked out of the assembly in protest, claiming there was no sense in participating in the session when they could not influence the results.
"People in PACE must understand that the assembly can play its role of common European body for inter-parliamentary cooperation, promote the ideals of equal rights, the rule of law and strict observation of Human Rights and freedoms only on condition of Russia's constructive participation in its work. Any other way would lead us to a political dead end," reads the address.
The Duma also stated that the restoration of all powers of the Russian delegation was the necessary condition for Russia's full-pledged participation in the assembly.
The legislators noted in the address that the attacks against Russia were led by representatives of states that had participated in the aggression against Iraq and military occupation of this country, that bombed Serbia and its capital Belgrade, and also attacked Libya with bombs and missiles from aircraft after blatantly distorting the content of a UNSC resolution.
"Over the past years these countries have repeatedly and knowingly violated the international law, their actions led to a great bloodshed, loss of tens and hundreds of thousands of lives and tremendous destruction. Because of that, they have no moral right to judge Russia or impose sanctions against it," reads the parliamentary message.