ROAR: "Russia prefers big NATO countries"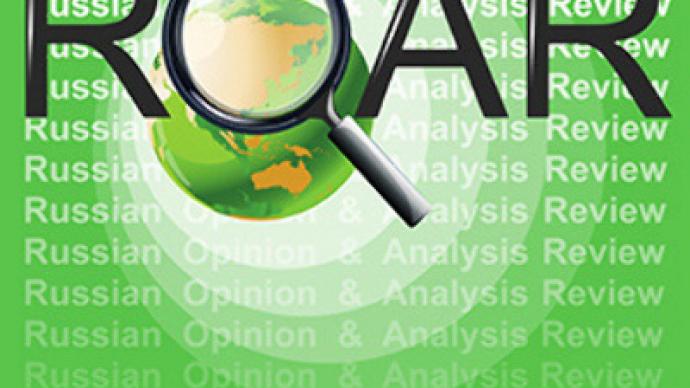 Moscow and the Western alliance are stepping up co-operation in the military sphere, but still disagree over "the open-door policy."
Russia and NATO may intensify their co-operation in the military and technical sphere, Vyacheslav Dzirkaln, deputy head of the Federal Service for Military and Technical Co-operation has said.
The two sides may even develop a new transport plane and heavy helicopter based on Russian samples and according to NATO's standards, he told RIA Novosti news agency.
Consultations are underway aimed at developing a package of documents regulating military and technical co-operation. According to Dzirkaln, so far Russia has been negotiating with each NATO member state separately. Prospects of such co-operation are linked to stepping up efforts in fighting terrorism, he noted.
Dzirkaln does not rule out that necessary directions of the co-operation will be found as the result of the talks with the alliance's member states and the bloc as a whole.
The co-operation between Russia and NATO has a different practical side. Russia's Baltic Fleet announced that its amphibious assault landing ship, the Kaliningrad, will take part in the BALTOPS-2010 (Baltic Operations) naval exercises in the Baltic Sea on June 7-18.
The exercise is being held in the framework of the NATO Partnership for Peace Program to promote "mutual understanding of maritime inter-operability" between the US Navy, NATO, and non-NATO participants, RIA Novosti reported.
NATO has made it clear that it intends to co-operate with Russia in other spheres, including building a joint missile defense system. Russia is waiting for details of the proposal, and observers do not expect quick agreements.
Nevertheless, NATO Secretary General Anders Fogh Rasmussen has been promoting lately the idea of defending the populations of all European states from missile threat. And he still hopes Russia will join a new missile defense shield.
Speaking at the Spring Session of the NATO Parliamentary Assembly in Riga on June 1, Rasmussen said that NATO missile defense capability will not create "new trouble with Russia."
"I believe the opposite is true. I believe that missile defense can bring NATO and Russia closer together," the general secretary noted, adding that he sees missile defense as "a perfect opportunity for co-operation."
The alliance may encourage Russia to cooperate, the general secretary noted. According to him, "over 30 countries have or are developing missile capabilities, with greater and greater ranges," and several countries are "seeking nuclear weapons."
Rasmussen's idea is to combine the missile defense capabilities of NATO, the United States and some European countries. These systems mainly defend deployed troops, and the general secretary wants populations to be protected too. "If we link the US and European systems, we can achieve far greater coverage," he added.
However, many analysts and politicians, especially in Russia, doubt that it will be easy for NATO to build an effective missile shield. Russian envoy to the alliance Dmitry Rogozin stressed that NATO lacks competence in some security problems, including missile defense. Only two countries have well-developed missile defense systems at the moment, namely Russia and the US, Rogozin told Latvian Baltcom radio.
"If something emerges concerning missile defense, it will be made by Russia and the US on bilateral basis," he said. "And NATO here is only the third 'client.' That means that NATO will join this issue."
At the same time, Rogozin positively assessed Rasmussen's approach to co-operation with Russia. "I have no doubts that he is willing to change the essence of our relations, involving Russia in the projects which European allies and the US would want to develop from the security point of view," Rogozin said.
However, Russia was more interested in the alliance of the Cold War period than in the present larger, 28-nation organization, Rogozin stressed. There are member states that have a small military potential, he noted. "We are not interested in them as partners," he noted. "And there are really serious big states, with which we are building bilateral relations."
Meanwhile, NATO will be conducting military exercises Baltic Host 2010 in three "small" countries – Latvia, Lithuania and Estonia till June 4, the media say. Military personnel and representatives of civil structures from the Baltic States and the US, Denmark, Poland, Norway and Germany are taking part.
Analysts believe that the alliance wants to demonstrate to new member states that they "have not been neglected." Rasmussen stressed in Riga that the co-operation between Russia and the alliance guarantees security of the Baltic States and the bloc as a whole, Regnum news agency said.
Other NATO member states do not want to be neglected either, and are trying to find new ways to demonstrate their attitudes to Russia's policies. The president of Romania Traian Basescu said on June 2 that his country does not support the new treaty of the European security proposed by Russian President Dmitry Medvedev.
The problems of European security could be solved within the framework of the existing mechanisms such as the Organization for Security and Co-operation in Europe and NATO, and the Russian initiative could not be put above these international structures, he said.
Rasmussen in Riga highlighted another issue of disagreements with Moscow – the alliance's policy of "open doors" for new members. Russia has long opposed the NATO enlargement to the east.
However, the conditions on the post-Soviet space are not favorable enough for the alliance; believes Aleksandr Shatilov of the Center for Political Conjuncture, referring to the Ukrainian leadership's course. But in the medium-term and long-term perspective, NATO has not abandoned its policy of enragement, he told Actualcomment.ru website.
Despite the words about the co-operation, Russia and NATO still have "objective disagreements and spheres where their interests contradict," the analyst stressed.
Sergey Borisov,
Russian Opinion and Analysis Review
You can share this story on social media: