Russia chides France, Spain and Portugal over Morales aircraft incident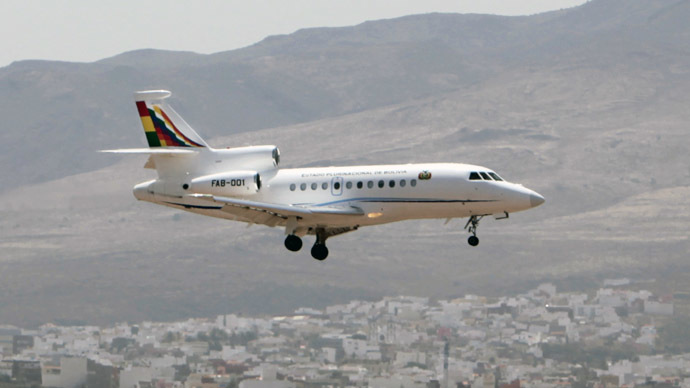 Russia has blasted the European countries which barred the Bolivian presidential aircraft from entering their airspace as unfriendly action, adding that such moves could compromise passengers' safety.
"The actions of the French, Spanish and Portuguese authorities could hardly be seen as friendly towards Bolivia and towards Russia, from which the Bolivian President Evo Morales was leaving upon completion of his Moscow visit. The refusal to grant the aircraft the right to overfly could create a threat to the security of its passengers, including the head of a sovereign state," reads the statement released by the Russian Foreign Ministry on Thursday.
Russian diplomats added that they will continue to press for unconditional observation of international rules that guarantee the personal immunity of heads of state that prevent any attempts on their life, freedom and dignity.
On Wednesday, the Bolivian presidential aircraft had to land in Vienna, Austria, and remain grounded for 12 hours as France, Spain and Portugal closed their airspace for transit over a suspicion it could have been carrying NSA leaker Edward Snowden.
Bolivia immediately called the grounding an act of aggression, accused the US authorities of backing the unfriendly move and promised to file a complaint with the UN.
"We're talking about the president on an official trip after an official summit being kidnapped," Bolivia's Ambassador to the United Nations in New York, Sacha Llorenti Soliz, told reporters in Geneva on Wednesday.
"We have no doubt that it was an order from the White House," Ambassador Llorenti said. "By no means should a diplomatic plane with the president be diverted from its route and forced to land in another country."
President Morales demanded an explanation from the governments of the countries that refused him entry into their airspace, saying he was not a criminal and the world was no longer in the colonial period. He also denied the possibility that Snowden could be on board of his plane, noting that "this young man isn't a suitcase that I can take with me to Bolivia."