Russian Navy on course to buy Mistral ships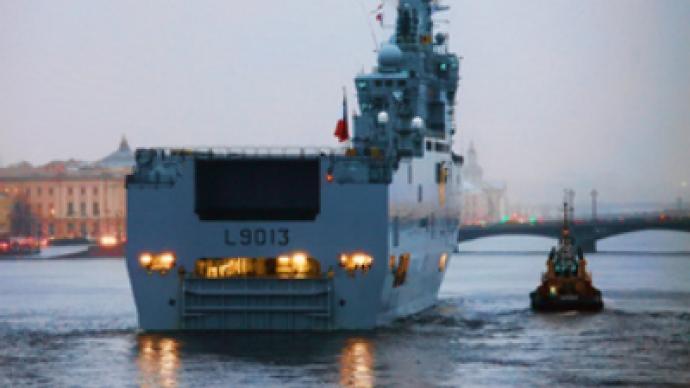 Closing in for the kill, Russia is said to be in final talks to buy a flotilla of four French helicopter-carriers - a deal massive both in terms of the vessels' size and their price tag.
"At the moment we are in pre-contract talks on the warships with three states: Spain, the Netherlands and France. We plan to sign a contract for four of these ships," said Russia's Defense Minister Anatoly Serdyukov.
Serdyukov said Russia would like at least three of the vessels to be built with the help of Russian shipbuilders, including one at a Russian shipyard.

Talks to buy the Mistral vessels have been ongoing for more than a year – hampered by political controversy and financial disagreements. If agreed to, the deal would see Russia buying its first ever warship from a NATO country – an idea that has many opponents, both at home and abroad.
A Mistral vessel is estimated to cost 600 million euros – an exorbitant figure that some experts believe would have been better spent on supporting Russia's struggling ship-building industry.
The negotiations received an important boost earlier this year when Russia's President Dmitry Medvedev personally discussed it with his French counterpart Nicolas Sarkozy, calling the planned deal "a symbol of trust."
However, since then the French side has sought to amend the details of the deal, prompting Russia to widen the circle of potential sellers.
Serdyukov said Russia would only agree to purchase the ships if no amendments were made to the agreements, particularly those concerning financing. According to media reports, France would like to sell Russia at least one of the vessels without all necessary electronic equipment.
If purchased, the ships will be deployed by the Northern and Pacific fleets.
You can share this story on social media: