Western-style juvenile justice not for Russians - poll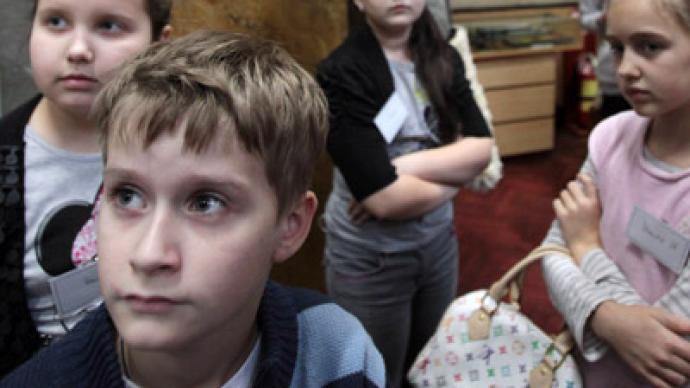 A majority of Russians said they are against the practice, common in western countries, of empowering special agencies with the ability to remove children from their parents for various reasons.
Russia has been working on introducing a juvenile justice system since it signed up to the European Social Charter in 2000.
The initiative, however, is opposed by many Russian conservative groups, not least of all the Russian Orthodox Church, which has called it an "alien western practice damaging family values."
Meanwhile, in a recent poll, seventy-six percent of the respondents said "parents and the family" should play the primary role in defending the rights of minors; 16 percent said it should be a state function, according to the survey, conducted by the VTsIOM state-run polling organization.
In comparison with western countries, where parents regularly lose custody of their children over seemingly minor offenses, Russians don't appear to want a nanny state monitoring their parenting skills.
A hefty 71 percent of Russians said they were against children's rights taking precedent over those of their parents, while 60 percent said minors should not be allowed to take action against their parents in the courts, according to the survey.
By way of example, an American woman in June 2011 lost custody of her children after spanking her 2-year- old daughter. Prosecutors said Rosalina Gonzales spanked her child with an open hand and left red marks.
She was charged with 'felony injury to a child' after the child's grandmother issued a complaint a police.
Gonzales, sentenced to five years' probation, was ordered to take parenting classes and to regain custody of her children.
The Russian Orthodox Church says parents should have a free hand in raising their children.
"The state has no right to interfere into family lives except for cases when there's a proved danger to life, health and morality of a child," it said in a resolution approved by Sacred Council of Bishops of the Russian Orthodox Church earlier this month.
The state should interfere as a last resort when the situation "cannot be eliminated through providing help to parents and using persuasion methods," it added.
Last week, the Church's Synod in Moscow criticized the possibility of low-income families losing custody of their children in situations where they could potentially no longer afford to support large numbers of children.
The survey showed 74 percent of respondents were against criminal prosecution of parents who leave their children unattended.
To illustrate the challenges facing individuals who are uprooted from their native cultures, a Russian executive and his wife made headlines in 1997 when they left their 4-year-old daughter at home in their Upper East Side apartment while they left for the evening. The couple, who explained to police it was customary to leave children home alone in Russia, was charged with endangering the welfare of a child.
Their child was taken into custody by the Administration for Children's Services.
The survey questioned 1,600 people in 46 regions, with a margin of error not higher than 3.4 percent.