EU postpones gradual plan to abolish visas with Russia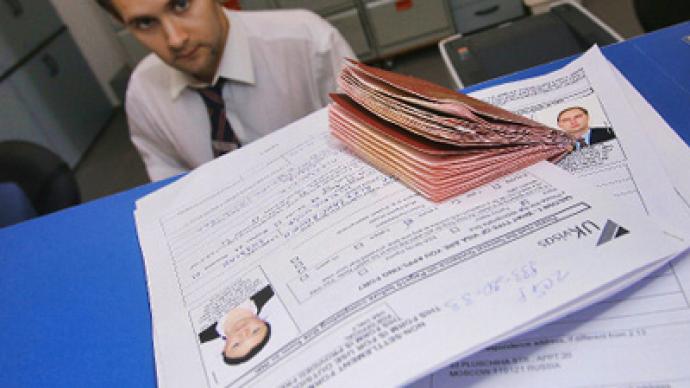 Moscow and the European Union have reportedly agreed on a plan for a step-by-step introduction of visa-free travel, but it is unlikely to be signed soon.
The agreement will not be ready by the next Russia-EU summit, to be held in Nizhny Novgorod from June 9-10, Kommersant daily reported. It may take the European Union member states one more month to adopt the plan which is to be gradually implemented. The permanent council of the Russia-EU partnership discussed the final version in St. Petersburg last week. The working document outlining all the mutual steps and additional measures is ready, a diplomatic source told the paper. But each EU country has to consider it, which requires more time. During the summit in Nizhny Novgorod, the leaders of Russia and EU member states may announce the reaching of an agreement in principle. Last year, the European Union determined a number of conditions for a visa-free travel with Russia. Moscow is expected to take steps regarding the protection of foreign passports, fighting illegal migration, terrorism, crime and corruption, as well as settling issues of readmission.Now, the two sides don't even want to discuss the time when the talks on the real abolishment of the visa regime might begin. However, several Russian agencies have already started to implement measures mentioned in the previous agreements. The Federal Migration Service is trying to bring biometric technology used in new foreign passports for Russian citizens up to European standards.   The talks on visa-free travel are accompanied by negotiations on simplifying the current EU visa requirements for Russian citizens. Both sides already issue long-term visas to some categories of travelers.  Russia's envoy to the EU Vladimir Chizhov said earlier this week that he expected an agreement on the steps necessary  to introduce a visa-free travel regimeto be reached soon. The list of these steps exists as "a tentative project," he said. The current discussion concerns short-term visas, Chizhov noted. Moscow has not raised the issue that Russian citizens can freely settle, obtain residence permits, and have access to the healthcare systems in the various EU countries. The diplomat refused to comment about the time of any possible switch to a visa-free travel.In 2010, Russian citizens received some 2.5 million Schengen visas and EU citizens received some 2 million Russian visas. According to Chizhov, Europe is not very enthusiastic about the introduction of visa-free travel for Russia. Moscow, in turn, will not unilaterally abolish visas for EU citizens, although some countries of the Commonwealth of Independent States have done that. Russia is only negotiating the abolishment of visa requirements on a mutual basis, the envoy stressed.
You can share this story on social media: