Russian birth rate to rise to 1.8 million as New Year rings in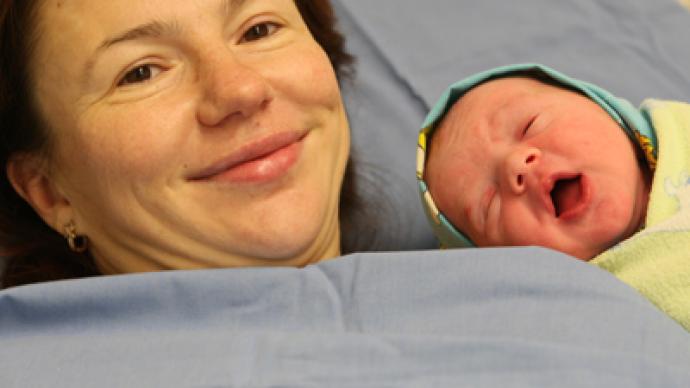 Russia's Deputy Prime Minister has announced some optimistic news regarding the country's demographics, which shows that initiatives by the Kremlin may be beginning to bear fruit.
­The annual birth rate in Russia is expected to eventually hit 2 million, which is good news for the nation's demographic and social outlook, Deputy Prime Minister Olga Golodets said in remarks at a conference on demographic issues.
After years of dismal demographic rates, the news comes as a relief for officials concerned about the social risks connected with a dwindling population, as well as the overall aging of the population and the need to meet the demands of the labor market through human capital.
"We anticipate that 1.8 million babies will be born this year," Golodets said. "It is desirable that the birth rate should reach 2 million… which would allow many of the risks for our state to be removed in this generation."
Golodets said that the country's birth rate levels should be maintained by further social development. She noted that Russia's birth rate has been increasing by 100,000 annually, and while the growth is welcome news, it presents a challenge to the country's social infrastructure.  
"This is quite a sizable index, and we… must be prepared to meet the demand for the services of kindergartens and medical clinics," she explained.
Previously, experts polled some 3,000 people while conducting a survey in 2007, as the Russian government was introducing initiatives to jumpstart population growth.
According to Tatiana Maleva, the director of the Institute of Humanitarian Development of Metropolis, the survey revealed that out of the families polled that had children, only 6 percent made their decision based on the introduction of government incentives. These individuals also said they were planning to have children regardless of the incentives.
Maleva noted that urbanization had negatively impacted Russia's birth rate. "In Moscow, 15 percent of childless respondents said they did not plan to have babies, while this index for all of Russia was just 6 percent," she said.
The study showed that in order for Russia to maintain its current population level, each woman would need to have two children. Large cities such as Moscow did not reach this objective: Of the men and women surveyed in the Russian capital, which boasts some 12 million people, a majority did not want to have more than two babies.