Russia condemns PACE resolution on its commitments, promises vote against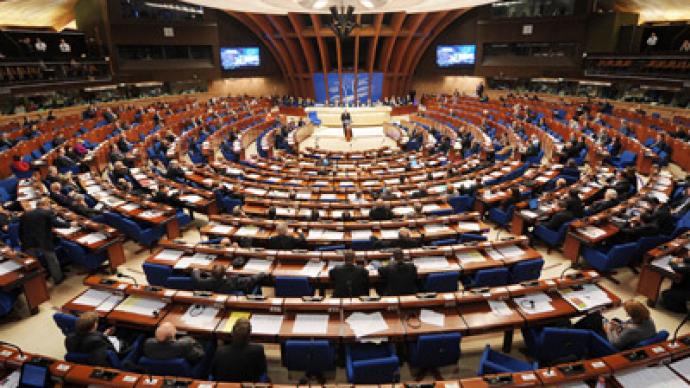 The head of the Russian parliamentary delegation to PACE has said the draft resolution on monitors' report was 'unacceptable', adding that no country in the world would change its policy after demands from abroad.
Chairman of the Lower House's Foreign Affairs Committee, Aleksey Pushkov, told the press that he expected heated debate at the PACE session and that this session will be one of the least easy ones. He stressed that the Russia was completely dissatisfied with the draft resolution as most of it "was not objective at all". The Russian official went on to give examples of demands lacking objectivity, in particular the calls to change Russia's legislation on meetings and rallies, to reconsider the court ruling in the Pussy Riot case, to stop applying the federal law on extremism to religious communities and also the demands to recall the recognition of independence of Abkhazia and South Ossetia and to immediately withdraw troops from Moldova. Russia recognized the two Caucasian republics as independent states in 2008 after neighboring Georgia attempted to capture South Ossetia by military force, and Russian peacekeepers were deployed to Moldova in the mid-90s to prevent confrontation with the self-proclaimed Republic of Transdniestr.According to Pushkov, in the draft resolution PACE insists that the monitoring of Russia honoring its commitments to the organization should continue until all these demands are met in full. "With all respect to the rapporteurs, it is absolutely evident that no nation in the world would reconsider its laws, court decisions or recognition of other nations by a demand from outside," Pushkov told the press, adding that such an approach was "unacceptable" and that he did not expect to come to terms with European parliamentarians on the subject. Pushkov was appointed to head the Russian delegation to PACE after the chairman of the State Duma, Sergey Naryshkin, announced last week that he refused to go to Strasbourg as he did not expect constructive dialogue with the organization which was so prone to Russophobic sentiments. Some Russian MPs suggested to boycott the session and even suspend Russia's membership of PACE, but eventually the State Duma voted that its delegation should visit Strasbourg.Deputy head of the Russian mission and the Vice President of PACE, Leonid Slutskiy, noted that the approval of the recommendations would become a vivid manifestation of the double standards policy applied to Russia. The politician also told reporters that the PACE leaders were embarrassed by the State Duma speaker's refusal to attend the session and were currently trying to hush down the reasons for it.
You can share this story on social media: