Russia warms up to climate change legislation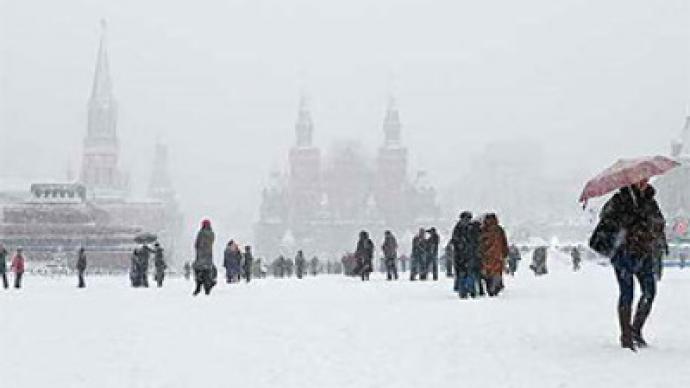 President Dmitry Medvedev on Thursday convened a meeting on climate change to address ways that Russia can reduce its gas emissions by 25% by the year 2020.
Opening his meeting, Medvedev admitted that the Copenhagen Summit in December was a "failure," but he went on to say that the event nevertheless provided "a lesson" that we could all learn from today.
Such events "must be organized somewhat differently, if they are to produce more serious results," he said, while adding that no one should be discouraged.
"All of us are responsible for the state of things on our planet, as well as for the climate," Medvedev said. "It was a rather serious signal on how the work should be organized."
Despite the failure to draft firm commitments, there was one thing the global leaders agreed to in Copenhagen, and that was slashing greenhouse gases by 25% (from 1990 levels of output) by the year 2020, and Medvedev said through economic rstructuring, Russia could achieve such results.
"The goal declared remains the same… and we can attain it by implementing the economic restructuring plan," Medvedev said at the meeting, while stressing that involving businesses in the solution of this problem is crucial.
The President then mentioned Russia's climate doctrine, approved of in December 2009, which he referred to as a "living document" that could be adjusted as necessary to address new challenges.
"The doctrine is a living document," he reminded the attendees. "It should not be too dogmatic; if necessary, there must be a chance of amending it."
"We'll see how the doctrine fits in with the current situation," he continued. "Maybe, it will be necessary to take into account cooperation with other countries and Russia's stand on its obligations after 2012."
The Climate Doctrine of the Russian Federation, available on the President of Russia official web portal, reads in part, "Climate change is one of the major international problems in the 21st century, which goes beyond the scope of a scientific problem and represents a complex interdisciplinary problem that covers environmental, economic, and social aspects of the sustainable development of the Russian Federation.
"The unprecedented rate of global warming witnessed in the past few decades raises particular concern. Modern science provides more and more solid arguments in support of the fact that human economic activity, related, first of all, to greenhouse gas emissions as a result of fossil fuel combustion has a considerable impact on the climate."
Business heats up to meet demand
"What the President is trying to attract business leaders' attention to is that they must be actively involved into different activities that will help Russia to meet this target," Vladimir Slivyak, co-chairman of Ecodefence told RT.
"If Russian companies will really invest their efforts and financial resources into energy efficiency and renewable sources of energy and different projects that target emission cuts," Slivyak continued, "then I think we can even exceed the present target rate [of 25%]."
Alexei Kokorin, head of the WWF climate change program in Russia, said that "twenty-five percent means it's not business as usual."
Kokorin then mentioned a unique problem facing Russia when it comes to reigning in climate change, and that is the annual need of providing heat and electricity supplies across a vast country, a process that is experiencing tremendous "heat loss" due to inefficiency.
"Losses of heat are absolutely enormous, terrible," Kokorin told RT. "Russia has 800 stations that simultaneously produce heat and electricity. But the delivery of the heat is one [problem] due to the 60,000 small boilers that produce heat at very low efficiency."
This is one area where Russia really needs to improve its technologies, he stressed.
Kokorin, who was in attendance at the Copenhagen Summit, agreed with the Russian President that the event was a failure.
"I was in Copenhagen for the full meeting and I saw that it was a failure of UN bureaucracy," but adding that it was "not a failure for the climate change movement."
"Without any support from the UN side, 28 presidents or heads of state were able to create the Copenhagen Accords," Kokorin said. "By the end of January, about 80 countries, including all of the large countries, sent notifications that they were willing to participate in the Accords."
These countries expressed their wish to continue the process, and this is an achievement, he added.
Kokorin then added that Russia should work hard to preserve its abundant supply of forests, which serve to "absorb a significant proportion of the earth's greenhouse gasses."
He also agreed with the suggestion that the term "global warming" may be actually 'turning off' many Russians to the idea of combating this problem, because "anything that has to do with 'warm' in a place like Russia is not usually interpreted as a negative thing," he said. "Moreover, Russia may be effected the least by any warming of the planet, although we will all ultimately suffer."
UN Climate Change official resigns
On a concluding note, it was announced today that Yvo de Boer, the Dutch bureaucrat who guided the international climate change negotiations over four difficult years, is resigning his post as of July 1, the United Nations announced on Thursday.
In a statement announcing his departure, de Boer expressed his disappointment that the Copenhagen climate change conference had failed to produce an enforceable agreement to reduce emissions of greenhouse gases, which the overwhelming majority of climate scientists say is contributing to the warming of the planet.
"Copenhagen did not provide us with a clear agreement in legal terms, but the political commitment and sense of direction toward a low-emissions world are overwhelming," said Mr. de Boer, whose official title is executive secretary of the United Nations Framework Convention on Climate Change. "This calls for new partnerships with the business sector, and I now have the chance to help make this happen."
You can share this story on social media: