Russia and China power ahead into the future - together
Published time: 15 Jul, 2011 09:47
Edited time: 15 Jul, 2011 16:27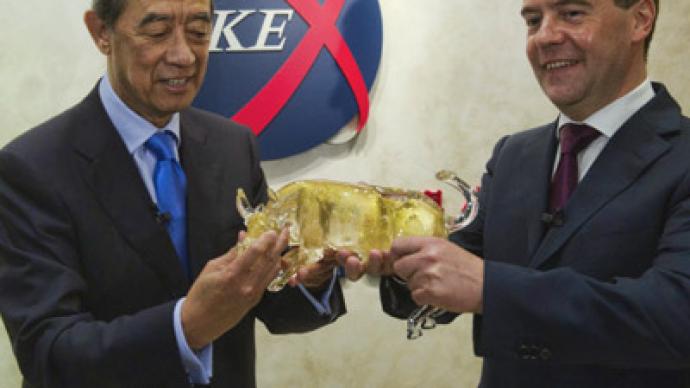 Foreign Minister Sergey Lavrov and his Chinese counterpart lay out in separate articles that Russian-Chinese relations represent the best model of interaction between states.
Lavrov's comments, which appear in an article published by the Chinese newspaper Renmin Ribao, are timed to coincide with the 10th anniversary of the Russian-Chinese Treaty of Good-Neighborly Relations, Friendship and Cooperation on July 16.
"An optimal model of interstate relations has been developed on the basis of the Treaty," Lavrov writes. "It is functioning successfully and acquiring a new content. It also meets the Russian and Chinese people's core national interests and receives their full support."

"The years that have passed since the Treaty was signed have been marked by vigorous development in all branches and by highest successes in the history of the two nations. An intensive summit-level dialog is being maintained. Mutual political  trust has become qualitatively stronger.

Lavrov also touched upon the high level of interaction that exists between Russia and China in a variety of diverse fields, including in trade, investment, finance, energy and scientific-technical research.

Lavrov's sentiments were echoed by Chinese Foreign Minister Yang Jiechi, who lavished praise on the Chinese-Russian relationship in an article published in Rossiiskaya Gazeta, a Russian daily, on Friday.

"China and Russia are the biggest trade and economic partners, cooperating on the principles of mutual benefit and joint gain," Jiechi wrote. "Over the past decade, bilateral trade rose from approximately $8 billion in 2000 to almost $60 billion last year, having increased more than sevenfold."

Commenting on plans laid out by President Dmitry Medvedev and Chinese President Hu Jintao last month at their meeting in Moscow, the Chinese minister said that both nations are committed to increasing bilateral trade to $100 billion by 2015 and $200 billion by 2020.

By working together, Russia and China managed to overcome the effects of the global financial crisis and maintain positive trends in their economic development, he said.

Meanwhile, in what appears to have been a jab at the United States, Lavrov said that Beijing and Moscow share the belief that multi-polar forces should protect and maintain "world order" as opposed to any one country.

"Russia and China's positions coincide on the key issues of the global and regional agenda," he wrote.  "Both countries actively advocate the formation of a multi-polar world order and oppose attempts to impose unilateral approaches in international affairs."

Lavrov went on to discuss Russia and China's active partnership in strengthening global security and stability through their participation in various international organizations.

"Russia and China share the same platform on many issues in the UN and its Security Council, in the G20, in BRICS (comprised of Brazil, Russia, India China and South Africa) and in the Shanghai Cooperation Organization. The two countries also have similar approaches to ways of settling the conflicts in North Africa and the Middle East.

"The potential of Russian-Chinese relations is far from being tapped, I am convinced," he added.

Once again, China and Russia seem to have torn a page from the same geopolitical playbook, as the Chinese minister said that Moscow and Beijing should intensify coordination in international and regional affairs.

"We are ready to join efforts to ensure that the global architecture becomes fairer, more rational, inclusive and orderly, so that peace, accord and common prosperity reign on this planet," he said.

Jeichi then proposed new ways of strengthening bilateral relations.

"We should explore new forms and areas of cooperation in the bilateral and multilateral formats," he suggested, "and find new points of convergence for our interests and increase the degree of their overlapping."
In related news, China anticipates expanding its cooperation with Russia in the trade of forest material, China's Assistant Foreign Minister Cheng Guoping told Russian reporters in an interview with Itar-Tass on Thursday.
"Cooperation between China and Russia in lumbering, both from the point of view of resources and from the geographical point of view, is highly mutually advantageous and has great potential," he said.
In 2010, he said, the bilateral trade operations in major forest products made almost 4.42 billion dollars, having grown against a similar period of the previous year by 22.9 percent.
"The Chinese side actively supports the investment activity of competitive national companies in Russia, for example, in deep wood processing," he said.
Guoping said the two countries had begun cooperation in the protection of forests from disease and infestation, as well as in the prevention of wildfires and in forest seed growing.
"We pay a lot of attention to cooperation with Russia in fighting illegal lumbering and the illegal trade of wood," he continued. "The sides have undertaken some practical measures, for example, to promote a mutual understanding about qualifications over legal lumbering…which is low-cost and comfortable to use."
Meanwhile, China is hoping that an agreement over the supply of Russian gas may be reached during a meeting between Prime Minister Vladimir Putin and his counterpart, Wen Jiabao in Beijing later in the year, Guoping told reporters.
"I hope the respective ministries and authorized companies of our countries will reach a consensus and sign an agreement within the framework of a regular meeting of the two heads of government," he told reporters.
"China is the most reliable and stable market for Russian gas, and Russia is China's most reliable strategic partner," Guoping said. "It means that the two countries need mutual cooperation. As for me, I am confident of success."
Guoping revealed that as of late 2010, there were 21,000 Chinese citizens currently working in Russia, mostly employed in the Far East and Siberia in construction, forestry and agriculture.
"Chinese workers are of great endurance, diligence and high productivity (and) are taken positively by Russia's employers," he said. "They, to a certain extent, ease the high deficit of labor in Russia, especially in the Far East and in Siberia, as they play the positive role in stimulating development of Russia's regional economies and the China-Russia trade and economic relations."
Labor relations between China and Russia date back to the early 1980s and continue to be a vital part of economic cooperation between the countries, he said. China's Ministry of Commerce reports that Russia has received over 363,000 Chinese workers of various qualifications and professions.