Russia blasts Ukraine for honoring pro-Nazi veterans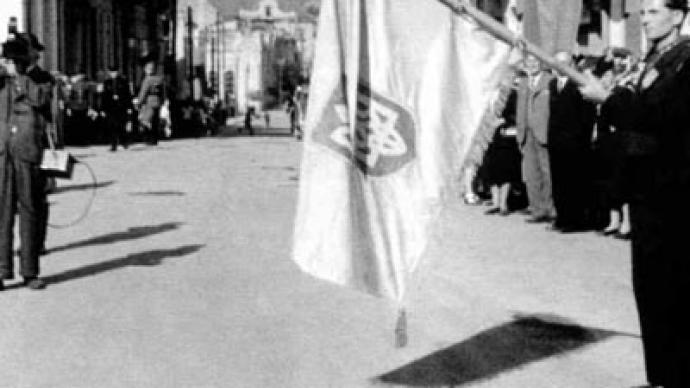 The Russian Foreign Ministry has expressed outrage as a Ukrainian nationalist movement renamed a village street after a legion that assisted the Nazi army during World War II.
Aleksander Lukashevich, a spokesman with the Russian Foreign Ministry, said on Thursday that Russian side learned that a small town in the West Ukrainian Lvov region changed the name of Peace Street to the Nachtigall Battalion Warriors Street, which is named after members of the auxiliary formation that fought alongside the Nazis in World War II. "The actions of the Ukrainian authorities cause surprise and outrage," the Russian diplomat said. "Do not they see the sacrilege in such actions? We still count upon the local and central authorities in Ukraine to hold a thorough investigation and return the street its noble peaceful name."The move to rename the street had been initiated by the All-Ukrainian Nationalist Union Freedom, which announced that it planned to hold a march in the capital Kiev in recognition of the members of the Ukrainian Insurgent Army as fighters for Ukraine's independence.The Ukrainian Insurgent Army was formed in 1943 and fought first against Soviet troops and pro-Soviet partisans in Ukraine, and later against Polish troops and Wehrmacht.  They continued with a guerilla war for some time after the 1945 victory over Nazism but were eventually destroyed by Soviet military and state security forces.There are historical documents showing that the Ukrainian Insurgent Army fighters assisted the Nazis and participated in pogroms and mass killings of Jews, Poles and Communists. Ukrainian nationalists, however, claim they were defending the independence of their country. The glorification of the Ukrainian Insurgent Army is one of major points of dissent in modern Ukrainian society. President Viktor Yushchenko has said that it was possible to recognize the former Insurgent Army fighters as war veterans, but made no move to do so. Nationalist organizations every year hold rallies promoting the idea.In January 2010, Ukraine awarded Stepan Bandera, the leader of the Ukrainian Nationalists' Organization (where the Ukrainian Insurgent Army was the militant branch) with the title of Hero of Ukraine. But after President Viktor Yushchenko lost to Viktor Yanukovich, the constitutional court recognized the presidential order as invalid.
You can share this story on social media: