ROAR: Russia may support Lukashenko's opponent in Belarusian elections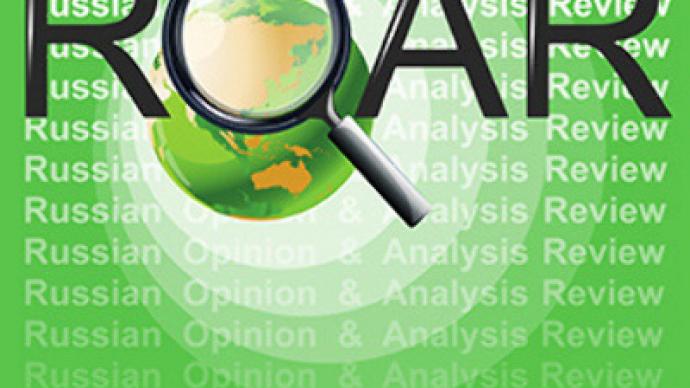 Analysts predict a new stage of a media war between Moscow and Minsk after three Belarusian opposition politicians met with the Russian finance minister and deputies of the parliament.
Moscow has probably started to choose the successor to Belarusian President Aleksandr Lukashenko, media say. One of the main results of the informal meetings between Russian and Belarusian politicians is the intention to hold in Moscow a forum of Lukashenko's opponents in August, Gazeta.ru said.
Belarusian politicians Anatoly Lebedko, Yaroslav Romanchuk and Aleksandr Dobrovolsky met on July 22 with Finance Minister Aleksey Kudrin; head of nanotechnology company Rusnano Anatoly Chubais; and several deputies of the ruling United Russia party, the website said.
The three opposition leaders were attending the birthday party of Leonid Gozman, co-chairman of the Right Cause party. "It was not a separate meeting with Kudrin and Chubais," Romanchuk was quoted by the website as saying.
It was not a conversation about Belarusian leader Aleksandr Lukashenko, but a discussion of "economic specialists," Lebedko noted. However, the guests from Minsk also met with heads of several committees of the Russian parliament, who were also present at the celebration.
Gozman said he always supported these Belarusian politicians. "We hope that sooner or later they will come to power," Gazeta.ru said. A large conference has been planned for August in Moscow, in which Russian and Belarusian politicians, economists and analysts will take part.
Analysts believe Moscow is looking for a candidate for Belarusian elections. At the same time, the chances of Lukashenko's opponents are estimated now as too low. Also, the majority of Belarusian opposition leaders are more interested in ties with Europe than with Russia, the website noted. However, Romanchuk "is not a supporter of limiting ties with Moscow in favor of Europe," the website said.
Meanwhile, Lukashenko ordered to hold a special session of the Belarusian parliament on September 7. Analysts predict that it will determine a date for early presidential elections. According to the country's constitution, the elections should be held by February 6, 2011.
Lukashenko could try to get elected until new possible tensions with Russia, Kommersant daily said. Meanwhile, Russia may support opposition leaders Andrey Sannikov, Vladimir Neklyaev and Yaroslav Romanchuk, the paper said.
Sannikov and Romanchuk told the paper they were relying on Moscow's media and technical support. Neklyaev said the best policies of the Kremlin in regard to Belarus would be "neutrality." This could give a chance to another politician who "will stop speculating on the brotherhood of our peoples and start a real policy of partnership," he noted.
Now the partnership is being questioned as "the media war" between Russia and Belarus is continuing. Analysts consider the interview with Latvian President Valdis Zatlers on Belarusian television as another step in this war.
However, Zatlers did not make any negative statements in regard to Russia, but did not rule out that his country might establish top level contacts with Belarus. Currently, Minsk and Riga have contacts at the level of foreign ministers, and an intergovernmental trade and economic commission.
Small steps will lead to top-level contacts, the Latvian president said. Contacts on a lower level will be also helpful: about 80,000 ethnic Belarusians live in Latvia.
At the same time, some politicians and analysts believe the current media war between Russia and Belarus may be counterproductive for both countries. Russian Communist Party leader Gennady Zyuganov strongly criticized Russia's policy with regards to Belarus.
The party condemned this policy which is "so strikingly at odds with our country's national interests," Zyuganov said. The Communists also demanding that "an end be put to vicious attacks on Belarus," Interfax reported. Good neighborly relations with this fraternal republic – vitally important for Russia – should be restored, they stressed.
Belarus remains "Russia's only reliable ally in the Western strategic direction," Zyuganov said. Moscow's policies are guided by the interests of "Western partners" and Russian oligarchs, "who are trying to seize modern Belarusian companies," he added.
The current media row may have long-term consequences, believes Andrey Ryabov of the Moscow Carnegie Center. In the long run, this might drive the Belarusian people from Russia, he told Vedomosti daily.
"Now they have Lukashenko, tomorrow they will have another president, but they are losing their faith in Russia as a kind of big brother," the analysts noted. "They are losing it as new generations are being socialized during a gas row and the media war."

"Moscow probably overestimates its potential to exert influence on Belarus," Ryabov noted. "Russia may choose its candidate for the presidential election in Belarus, but it is clear he or she will have no chances."
Russia will get nothing from this campaign, the analyst believes. "Moreover, for the first time in the history of political scandals we have heard from Lukashenko that Belarus is not an allied state at all, but an independent country."
Both Moscow and Minsk are acting in a Soviet paradigm, said Boris Makarenko of the Center for Political Technologies. According to it, if a critical program is shown on a state TV channel, that means it is the official position, he told the daily.
Such approach works only until the societies and elites "maintain this Soviet stereotype, he said. "But, in fact, people will watch it, laugh at it and forget it."
Fedor Lukyanov, editor-in-chief of Russia in Global Affairs magazine, doubts that the media war will have any serious political consequences, because the space for maneuver is limited for both sides.
"Lukashenko joined the Customs Union [of Russia, Belarus and Kazakhstan] after Russia fired a first salvo in this confrontation by showing a film on NTV channel," Lukyanov recalled.
After Georgian President Mikhail Saakashvili's interview to Belarusian television, Russia is unlikely to respond with something serious, except new films on Lukashenko "because its relations with Belarus are too important in many fields," the analyst said.
Sergey Borisov,
Russian Opinion and Analysis Review, RT
You can share this story on social media: