Duma gives first nod to new anti-terrorist package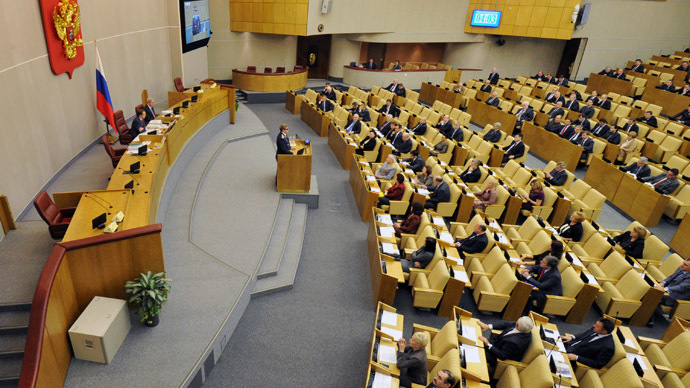 The Russian Lower House has passed the first reading of a set of amendments that broadens the security service's powers, increases punishment for terrorist activities and also imposes additional state control over the internet.
The bill was submitted in mid-January after a string of deadly terrorist attacks shook southern Russia in December killing 37 people. One of its main sponsors, MP Irina Yarovaya of the centrist conservative party United Russia told other Russian legislators earlier this week that the draft must be passed as soon as possible to allow law enforcers to conduct preventive measures against the terrorist threat. MP Andrey Lugovoy of the populist nationalist party LDPR jokingly suggested that all those who were in doubt, or just scared to take resolute measures make a trip to the Ukrainian capital Kiev and see for themselves why the bill is extremely necessary.
In its current form the draft law consists of three parts. The first bill gives the agents of the Federal Security Service, the FSB, the right to search people, their personal belongings and cars without a warrant when there are sufficient grounds to suspect them of committing or preparing terror-related crimes.
The second part completely scrapped the statute of limitation for terrorism and crimes against peace and security of humanity.
The bill also aims to increase the punishment for a number of terrorist related activities. The maximum punishment for such crimes is set at life in prison instead of the current 20 years – this is applied if an attack ends in the loss of human life, or if terrorists use nuclear devices or materials. Also, the new amendments introduce sentences of up to 20 years or even life sentences for organizing and committing crimes of a terrorist nature and for organizing financial terrorism.
Those who undergo terrorist training, organize terrorist communities, and form illegal armed groups can also be sentenced to life in prison according to the new proposals.
The third part says all companies and individuals that organize the spreading of information or data exchange between users on the internet must keep logs of all user activity for six months, and provide the information to law enforcers in a way described by federal laws.
The bill also restricts the maximum anonymous payment via an internet money transfer system to just 1000 rubles (under $30) per day and 15000 rubles ($415) in a month. The maximum amount of money to be held in an anonymous account is set at 5000 rubles (under $140). Anonymous payment systems issued by foreign organizations are banned in Russia.
The amendments concerning the limitations of internet operations and especially the electronic payment systems have caused the strongest response in Russian society, and drew the most criticism. In connection with this MPs have suggested that before the second reading the bill is altered so that it includes some mechanisms of remote identification of users by electronic payment systems.
You can share this story on social media: