RT presents: Russia's Choice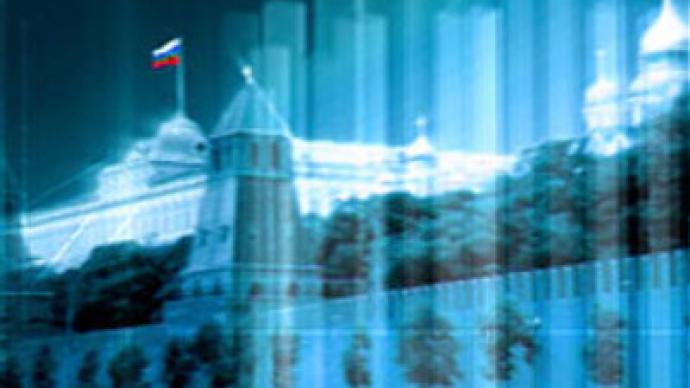 Polling stations have opened in Russia's Far East for the presidential election, though a so-called Day of Silence is in place in the other 10 time zones across the country with any further electioneering prohibited by law. Meanwhile, Russians from all wa
Every hour RT is broadcasting live interviews with Russia's most prominent politicians, opinion formers, celebrities and ordinary voters.
From every part of Russia and abroad, our correspondents are discovering the burning issues and what voters expect from their next leader.
Join us for the marathon broadcast!
March 01, 2008
Vasily Gatov from PromSvyazCapital joined RT at 11pm to comment on how the media business in Russia has been developing through the 1990s and the first eight years of this century.
"Since 2000 the newspaper world has seriously changed. The leading newspapers of 1990s which started during the revolutionary period of 1991-1993, have been backed by oligarchs. And at the beginning of the 21st century they either closed or changed ownership to more neutral. As far as the business side is concerned, the newspaper industry has grown tenfold in terms of income, as well as television did. Last eight years were perfect for the media business," he said.
Tina Kandelaki, Russia's well-known TV-anchor, shared with RT her views on Russia's development as a country and as a society, and the popularity of TV in Russia.
"TV is very popular but now the situation is changing a bit. Earlier reality shows have been very popular, for almost two years, but now we've made some researches and understood that quiz shows become popular, I don't know why," Tina said.
Publisher Grigory Kunis commented to RT on the state of the publishing business in modern Russia and on the difference between the Russian and Western newspaper businesses.
"In general it is not exactly a newspaper business as in the Western countries, mainly because it is partly a propaganda tool for many political structures or oligarchs. That's why it is a mixture of real newspaper business and propaganda," said Kunis.
Konstantin Kryukov, a young Russian actor who comes from a famous Bondarchuk cinema family, joined RT to discuss the modern Russian cinema industry and obstacles for actors.
"It is less difficult to be an actor in this country than it was ten years ago because there is an industry, there is a market, and most of the people have work. The cinema market is growing, and it is growing quite fast in Russia in the last five or eight years," Kryukov said.
Ali Nassor, spokesman for the African Unity St. Petersburg Group, joined RT to discuss racism in St. Petersburg, which is labelled by some as the hate crime capital of Russia.
"I think that St. Pete's being branded the 'Russia's hate crime capital' is more or less issue of the press. It was an exaggerated phenomenon," Ali Nassor said.
Fred Weir, Moscow bureau chief for The Christian Science Monitor, told RT that Russia has had a remarkable transformation.
"I think it has changed fundamentally in a lot of ways. The Soviet Union was something like an island which tried to create a completely different species of humanity and the life that would be a totally different alternative from the life in the rest of the world. That's all gone," he said.
Bob van Ronkel, the man responsible for bringing Hollywood stars like Jim Carrey, Paris Hilton and Mickey Rourke to Russia, told RT that perceptions have changed.
"In 2001 definitely everybody was concerned what are the hotels like, what is the food like, what are the bandits like, what are the people like, and after six years of bringing so many stars here I have such a great experience," he said.
Fujio Hosaka, Managing Director of Nissan Manufacturing Russia, told RT about how attractive the country, and St Petersburg in particular, is for car manufacturing.

"We've chosen St Petersburg mainly due to logistic reasons as car manufacturers are sensitive to logistic conditions. Besides, local authorities are very co-operative," he said.
Konstantin Khudoley, Dean of the International Relations faculty at the St. Petersburg State University, shared with RT his views on Russia's role on the international scene.
"Russia's main resource now is the recent economic growth," Khudoley believes.
Kira Plastinina, Russia's youngest professional fashion designer, joined RT to discuss her industry. But the first question was how she dealt with success at such a young age.
"It's a big responsibility, and it's really important for me that people understand that being the youngest designer doesn't necessarily mean being not professional," said Plastinina.
Vyacheslav Fetisov, head of Russia's federal agency for sport and also a prominent ice-hockey player, joined RT to highlight the problems which the country's sport is now facing.
"In the 1990s the Russian government had enough problems and it didn't pay much attention to sports. We had a huge gap but for the last 6-7 years we've witnessed a big breakthrough," said Fetisov.
Vladimir Polutin, director of HP Labs Russia, was RT's guest at 2pm. He mulled over Russia's scientific engineering potential and the importance of developing innovative breakthrough technologies.
"The western companies now begin to recognise Russia as an interesting market and an interesting country to place the outsourcing of software development. And the research centres will also come," Polutin believes.
Canadian journalist Malcolm Grey from Mclean's news magazine shared his view on how the presidential electoral campaign in Russia has been perceived in the West.
"One certain thing is that it's boring. There's no real contest. Everyone knows that Dmitry Medvedev is going to be the president," said Grey.
Swanee Hunt, former U.S. Ambassador to Austria and now Director of the women's programme at the Kennedy School of Government, spoke to RT about women in Russian and American politics.
There are fewer female politicians in Russia, than in the U.S., but Swanee Hunt believes that "if Russia develops a stronger NGO and Human Rights sector, that's where we'll see a lot of women coming through".
Irina Rodnina, Russia's prominent Olympic figure skating champion and the State Duma deputy, came in to RT at 11am. Irina was part of Russia's Sochi 2014 Winter Olympics delegation in Guatemala. She recalled her emotions last summer, when Russia won the right to host the long-awaited games.
"I won many competitions in my life, but those emotions can't be compared to what I felt there. It was the country's big victory and I think that was a big personal victory for President Putin," said Rodnina.
Dmitry Babich from Russia Profile Magazine shared his views with RT about Russia's relations with the EU and CIS countries.
"The 2004 'Orange revolution' in Ukraine was the turning point that shook EU-Russia relations, as they have been souring since then," Babich believes.
Ruslan Pukhov, Director of the Centre for Analysis of Strategies and Technologies, joined RT to shed light on the Russian defence industry and also on the country's relations with Latin America.
Although, Ruslan Pukhov believes that Russia is one of the major international weapons producers, there is still room to increase production and export.
"Now Russia has a huge defence budget, which more than tripled under Putin, and there is also a growing demand for Russian weapons on the international arms market. However, Russia is unable to produce such a big number of aircraft and satisfy the demand," said Pukhov.
As for Latin America, Pukhov believes Russia's ties with the region – now quite weak – will strengthen under the new president.
"Economically Latin America now is the last priority for Russia, but potentially it is a very interesting region for Russia for several reasons. For years the countries in the region were under the U.S. influence, that's why the new Latin America "dragons« – Brazil, Venezuela, Chile – are eager to strengthen ties with other countries,» said Pukhov.

Professor Mikhail Shinkovsky from Vladivostok's State University of Economics and Service was RT's guest at 7 am. He spoke about one of the biggest problems facing the Far Eastern region that has been raised repeatedly at both a local and federal level – the so-called brain drain – outflow of the young and able workforce leaving to head west.
He says there are several reasons for that.
"First of all, the main part of industry of Russia's Far East during the Soviet era was only for military and defence. That's why now such kind of plants and enterprises are collapsed. Secondly, the way of life in the central part of Russia is much better for young people than it is here," Shinkovsky said.
Denis Boyle, Office Director of American Councils for International Education in Vladivostok, Russia's largest port city on the Pacific Ocean, spoke to RT at 5 am.
Boyle initially came to the region with the US Peace Corps in 1992 and has lived in Vladivostok for some 15 years. He says "today the standard of living and the whole life style has really improved".
However, he says, the prices have skyrocketed.
"It'd say, two biggest challenges that people in the Russian Far East face, are probably demographics and economic development. You know, my territory here is practically the size of continental U.S., but the total population here is less than in Moscow," Boyle says.
Natalia Loginova from 'Success' business centre, which specializes in offering practical and psychological assistance to unemployed people, spoke to RT at 4 am.
She started her business in Primorsky region in Russia's Far East in mid 90s, a difficult time for the country, when many people lost their jobs.
Loginova spoke about how the situation has changed in terms of the help afforded to the unemployed.
Heidi Brown is a journalist from Forbes magazine where she writes about Russia among other issues. In the mid 90s, she lived in Vladivostok, where she worked as a reporter for an English-language newspaper.
She joined RT at 3 am to talk about the freedom of speech in the country.
"Unfortunately, there are trends I'm seeing that are very concerning. The main one is that in a country like Russia it's really difficult to talk about freedom of speech when journalists can still get killed for doing their jobs. I'm speaking specifically about my colleague, Paul Khlebnikov, whose murder hasn't yet been solved. We have not yet found or brought to justice the mastermind of his murder, even though the Russian government promised to do so," she said.
Alec Brook-Krasny, a New York State Assembly member, emigrated to the U.S. from the former Soviet Union in 1989. By 1996 he was a successful New York City business-owner and in 2000, Mr. Brook-Krasny became the first Russian-speaking American to run for political office.
Alec Brook-Krasny was RT's guest at 2 am.
"In the eyes of many people, the next president of Russia was hand-picked by the current president. In eyes of many Americans and in my own eyes, it's not as democratic as the presidential election should be in a country like the Russian Federation," he said.
The American Bar Association is a voluntary association of lawyers and law students, which provides information about the law, programmes to assist lawyers and judges in their work, and initiatives to improve the legal system for the public.
Diane Post from the ABA office in Vladivostok in Russia's Far East joined RT at 1 am to talk about work and life in the region from the point of view of an American citizen.
She said whilst there was a lot of activity during the parliamentary election, most of the people she's spoken to "do not have much interest in the Russian presidential election."
"On the other hand, they do have a lot of interest in the American election and almost everyone I've talked to knows what's going on," she said.
Nina Khrushcheva is an associate professor in the Graduate Programme of International Affairs at the New York's New School and senior fellow of the World Policy Institute. Known for her studies of Russian politics and international relations, she is also the great grand-daughter of former Soviet leader Nikita Khrushchev.
Khrushcheva joined RT at midnight to talk about possible Putin's influence on Russia's policy in the coming years, role of Soviet legacy in modern Russia and recent developments in the country's foreign policy.
"I am not that sure that defending Ahmadinejad of Iran is a great policy. I'm not that sure when the Russian President is invited to Kennebunkport [summer home of the Bush family], and, at the same time, there's a visit of Hugo Chavez to Moscow that supposedly counterbalances that and suggests that Russia can go in different directions and Russia's foreign policy is all-inclusive. And I am not that sure that all-inclusive foreign policy, with threats mixed into it, is such a good idea," she said.
You can share this story on social media: