Will a Romney victory rattle geopolitical stage?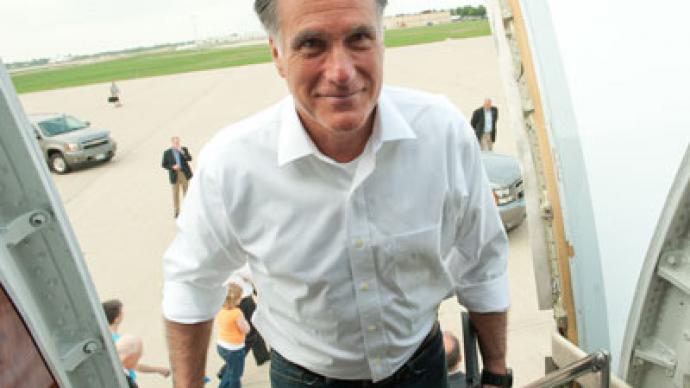 Mitt Romney has painted Russia as America's sworn enemy. Such rhetoric may lead to an explosion in military spending on both sides if the Republican wins in November presidential elections.
Russia is seriously concerned by Romney's anti-Russian comments, which could lead to a series of undesirable consequences, such as the rekindling of an arms race, Russian Deputy Prime Minister Arkady Dvorkovich said over the weekend."In the event that Romney wins, we may have to enlarge the defense budget," Dvorkovich told delegates at the Russian Future session of the ninth-annual Yalta Meeting.The Republican challenger, in an attempt to attract potential voters by slamming US President Barack Obama and his 'reset' efforts with Moscow, has labeled Russia as America's "number one geopolitical foe."On a separate occasion, Romney declared that "Mr. Putin will see a little less flexibility and more backbone" from the GOP nominee if he wins the White House.In light of the Obama's administration's resolve to build a European missile defense system without Russia's participation, many in Moscow wonder how a Romney presidency could be any worse for bilateral relations.Moscow previously warned the US it risks another Cold War if it continues to unilaterally pursue missile defense. Thus far, Washington has refused to provide Moscow with a written statement that the system would never be directed towards Russian territory.In the event that such an arms race became a reality, Dvorkovich warned that both Moscow and Washington would be forced to spend a vast amount of money. Such a scenario "would be counterproductive against the backdrop of the complex economic situation," he said.Dvorkovich, who is also an economist, believes that in the event of another arms race, "a narrower group of companies in the United States would receive a disproportionate share of investment." This could, in turn, have a negative effect on US economic growth, he said."How is it possible to cooperate [with Washington] when a prospective leader tags a country as an adversary?" he asked.Another attendee of the meeting, VTB President and CEO Andrei Kostin, argued that Russia was not a totalitarian regime under Putin. "Whoever says so understands nothing about Russia," he said."In an effort to export its values, the United States is following the erroneous suit of the Soviet Union, whose attempts to export revolution brought negative consequences, in particular, in Afghanistan," Kostin said.Not everyone, however, was convinced that Romney's heated rhetoric signals the end of the Russia-US relationship.Vladimir Evseev, researcher at the Center for International Security of the Institute of World Economy and International Relations, believed that Romney's approach to Russia will not differ too much from Obama's in the event the Republican wins the election."Cooperation with Moscow is very important for the USA – for instance, on Afghanistan, on the nuclear issues of Iran and North Korea," Evseev told RT. "There are a lot of mutual interests, so in my view Romney's policy will not be very different from Obama's."Evseev recalled Obama's well-known speech in Cairo, Egypt, where he hinted at "coming changes in US foreign policy." But despite that speech, America's position on global policy has "generally remained the same," he said, adding that "any candidate wants to get more votes and become the next president."Evseev also does not expect any drastic changes in bilateral relations between the two former Cold War rivals. He also sees a Romney presidency as, ultimately, an unlikely thing: "For the moment Obama is likely to continue on as the US President."Robert Bridge,RTEvgeny Sukhoi contributed to this article.
You can share this story on social media: