Russian military 'wolf' won't miss the hare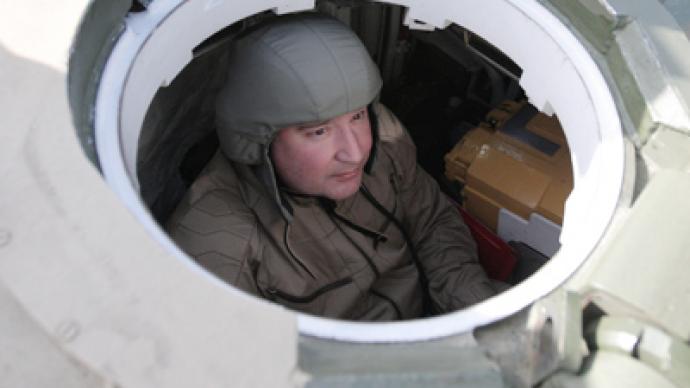 As global challenges mount, Russia is developing a more effective military concept that it promises will give the "prey" no chance of escape.
Deputy Prime Minister Dmitry Rogozin, conjuring up imagery from Aesop's fables, said that Russia is in the process of developing a technological "wolf" to catch the elusive "hare."

"We will now have a new strategy – Putin has previously hinted at this, it will be realized now by the new president – this is the strategy of a scientific and technological wolf – one that is not following the hare's tracks, but instead senses where the hare is heading and catches the prey in a single bound," Rogozin told reporters on Wednesday.

Rogozin added that in the middle of May "we shall get down to work on the doctrine," which he said will be finalized by the end of the year.

The full range of the military overhaul, however, is expected to evolve "30-40 years into the future."

Meanwhile, the Deputy Prime Minister, who formerly served as Russia's envoy to NATO, did not pull any punches when it came to reviewing Russia's efforts at military modernization.

"The task that we are facing in the area which I head, is strategic planning," he said. "To date, [Russia's] defense, and defense industry have been developing with a forward-looking glance – that stopped right at our feet."

The outlook horizon on military development was limited to only a year or two, he said.

Rogozin then alluded to a problem found in every national military: copying the technology of other nations even if it does not fit with domestic security requirements.

"Many of the weapons programs, prepared and criticized by us, are connected with copying – the Americans have this, let us also have this, the Germans have that – let us also have that".

Modern weaponry will make up 70% of the Russian arsenal by 2016, the Deputy Prime Minister said.

These weapons will be manufactured under an "armaments program which envisions high-accuracy modern weapons alone," he said. Asked what will be done about the ageing arms, he said, "we will destroy them, sell them, or hand them over as a gift."

In 2010, President Dmitry Medvedev unveiled Moscow's new military strategy, which reserves the right to implement tactical nuclear weapons in the event that Russia or her allies are threatened.

The document cited NATO expansion as one of the chief threats to the country's security.