ROAR: "Britain does not mix economy and politics"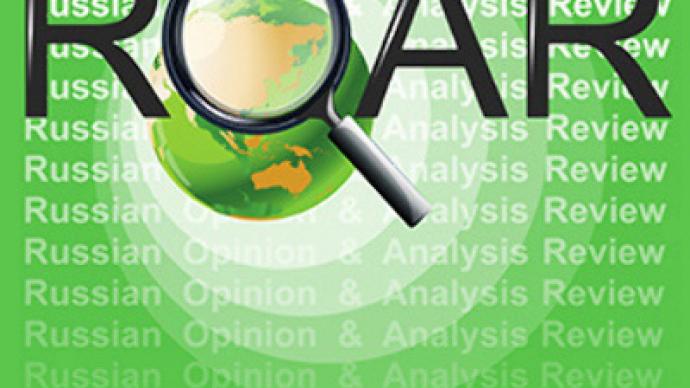 After William Hague's visit to Moscow, many analysts still doubt that "a quick new start" in relations with Russia is among London's priorities.
During his first trip to Russia as Foreign Secretary, Hague met with President Dmitry Medvedev and Foreign Minister Sergey Lavrov to discuss bilateral relations.
"Prior to his trip, Hague said that London was not going to change its position in 'the Litvinenko case' and the armed conflict in South Ossetia, but against all expectations, he did not highlight these topics," Kommersant daily said. "Instead of this, the two sides agreed to help each other on the international arena, in particular, in the UN, and to strengthen economic cooperation."
The paper noted: "The explanation of the sharp change of the tone could be found in Hague's stance, according to which Britain's foreign policy should further the development of its economy."
President Dmitry Medvedev met with the British Foreign Secretary, "although according to requirements of protocol he was not obliged to do so," the paper said, adding that many analysts consider this fact "as Moscow's readiness for reconciliation with Britain."
"Observers, however, believe that it is premature to say that all conflicts have been left behind," the daily noted. It quoted Aleksey Budargin of the institute of Europe, of the Russian Academy of Sciences as saying: "In relations between Russia and Britain, there are positive factors in business, optimism on the issue of countering global challenges and pessimism in bilateral political questions. It is not the reset. The British do not mix economy and politics."
Both Moscow and London now seem to have a mutual interest "in developing relations rather at the level of rhetoric," believes Maksim Minaev of the Center for Political Conjuncture. This approach is not supported by specific decisions that could "launch a real normalization of relations," he told Actualcomment.ru website.
"Prime Minister David Cameron's Cabinet has been in office since May, and during that time we have seen several meetings between the two sides, but so far they have not brought any change," the analyst noted.
The main stumbling block in bringing their positions closer is "a slowness or caution on the British side," Minaev thinks. Apparently, it has certain doubts about Moscow's readiness "to engage in a substantive discussion on particular issues," he added.
London has not reacted to Moscow's proposals to unblock the deadlock regarding "the Litvinienko case," the analyst stated..
Britain "has not expressed a particular interest in Russia" for some time, said Vyacheslav Nikonov, executive director of the Russian World foundation. Meanwhile, "the reset of Russia-US relations has happened and our relations with the European Union are reaching a higher level," he noted.
"During the election campaign [in Britain] the 'Russia' word practically was not used, at least during TV debates," the analyst noted. "This happened for the first time in the history of British election campaigns."
On the one hand, this may be a positive factor as "the acuteness of the Russian issue has gone," he stresed. "It had emerged first of all in connection with the Litvinenko case, which Russia has nothing to with as a state, in my view."
Moscow also has a number of claims to Britain as "about 200 people live on its territory, who are on the Russian wanted list," Nikonov said. On this issue, the advance on a diplomatic level is impossible because the decision to grant a particular status to these people is taken by the judicial system, he noted.
Britain is considered by many as a quiet haven for those who are at odds with the Russian authorities, he stressed. "Moreover, representatives of some groups considered terrorist in Russia, feel comfortable in Britain."
Nikonov recalled that at the end of the 19th Century and the beginning of the 20th, many Russian revolutionaries and terrorists went to Britain. "If you take a pack of The Times newspapers over the last 200 years, you will see that the tone of statements about Russia has not significantly changed," he noted.
Sergey Borisov,
Russian Opinion and Analysis Review, RT
You can share this story on social media: