Regions learn Mandarin to do business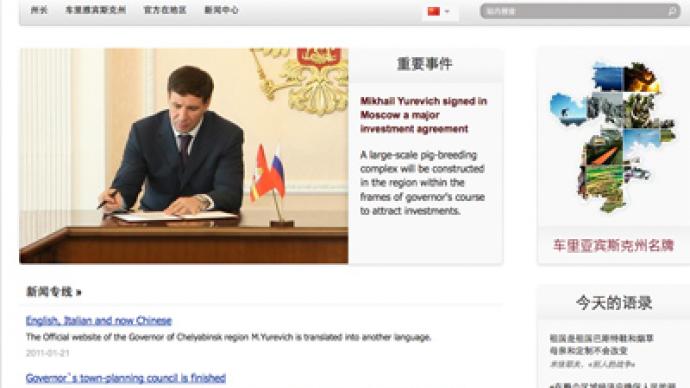 The official site of the governor of the Chelyabinsk Region in the Urals has been translated into the Chinese language of Mandarin.
Governor Mikhail Yurevich's press service released a statement which states, "The creation of the Chinese version of the site is linked to the region's development strategy in the coming years, namely increased efforts towards attracting foreign partners." The press service also notes that despite the good level of English among Chinese businessmen, providing information in Chinese will "make easier contacts between potential partners and will strengthen trust of Chinese companies." The Chinese version can be accessed from any page of the site by choosing a corresponding flag in the menu. It should be noted, though, that not all texts have been translated into Chinese and there are articles in English on the page. Earlier the site was translated into English and Italian. Russia-Chinese economic relations have been developing steadily, especially in the field of energy. In 2006 the two countries agreed on Russia's energy supplies to China. There are plans to build a gas pipeline which will connect the Urals with China's west. In 2010 China became Russia's second largest economic partner. The turnover between the two countries is about US$40 billion. Oil and gas have comprised around 80 per cent of Russia's exports to China.
You can share this story on social media: