Russian Gay Pride organizer seeks urgent meeting with Putin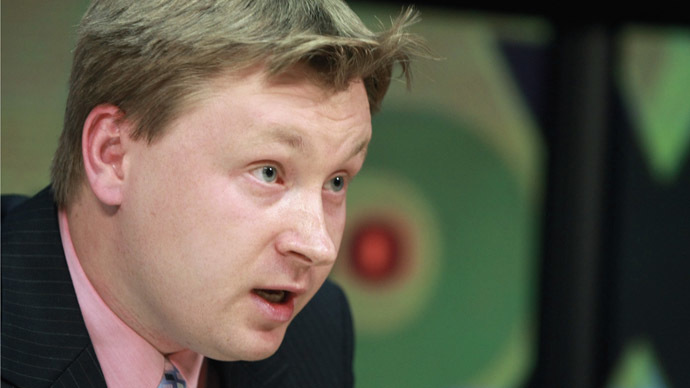 The Russian president will consider a meeting with prominent Russian gay rights activist Nikolay Alekseyev, but first he must hear the proposed agenda, Vladimir Putin's press secretary has told the press.
Dmitry Peskov issued this comment on Wednesday morning shortly after Nikolay Alekseyev tweeted that he was officially requesting a meeting with Putin as he wants to discuss "the situation surrounding LGBT in Russia and in the whole world."

Peskov assured journalists that Putin is a supporter of dialogue in all spheres and is ready to meet with the activist. If the proposed issue of discussion is really urgent, a meeting could be organized promptly, Peskov added, but also expressed personal doubt that the problem was really a "burning" one.
The presidential spokesman also noted that the possible future meeting had nothing to do with the planned meeting between US President Barack Obama and Russian LGBT activists that is expected to take place during the coming G20 summit in Russia's St Petersburg.
"That is Obama's schedule. In this case Putin has his own schedule for this period of time," Peskov said.
A day earlier, Russian rights group LGBT Network told the press that its representatives had been invited to a meeting with the US president, adding that they intended to accept the invitation. Another Russian group, Coming Out, said they had been invited, but had not yet made a decision on attending.
Nikolay Alekseyev is one of the best-known gay activists in Russia, the creator of Gayrussia.ru web portal and the organizer of first Russian gay pride events.

After Russian President interview to AP I am officially asking Vladimir Putin for a meeting.

— Nikolai Alexeyev (@n_alexeyev) September 4, 2013
When Alekseyev became entangled in the controversy connected with the fresh Russian 'Gay Propaganda Ban' (which is in fact an act that introduces administrative fines for promoting non-traditional sexual relations to minors), he first announced that he was quitting the LGBT movement. He explained that he was protesting against the attitude and policies of international gay rights campaigners who put their own PR objectives before the actual state of gay rights in Russia.
The activist even said in a press interview on Tuesday that "US LGBT campaigners are attempting to seize power in Russia – the power over the Russian LGBT movement," adding that the recent initiatives of boycotting Russian vodka or the upcoming Winter Olympics in Sochi were undermining the Russian gay rights movement.
Vladimir Putin said in an interview with the Russian television and the Associated Press on Tuesday night that he was ready to meet with LGBT activists and discuss their problems, but had not yet received any requests from their side.
Putin reiterated his position that Russian authorities were not infringing gay rights or discriminating against people over their sexual orientation.
"I assure you that I work with these people, I sometimes award them with state prizes or decorations for their achievements in various fields. We have absolutely normal relations, and I don't see anything out of the ordinary here," Putin told reporters.
He added that all Russians love Tchaikovsky, despite the composer's rumored homosexuality.
"Truth be told, we don't love him because of that, but he was a great musician and we all love his music," Putin said.