Putin warns against inciting ethnic conflicts in Russia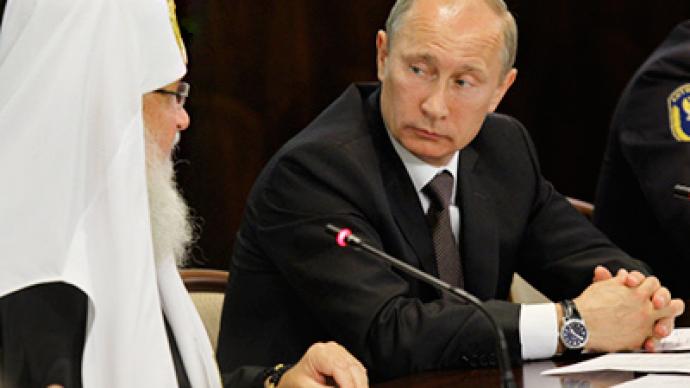 Stirring up inter-ethnic conflicts in Russia is unacceptable, as it may lead to grave consequences for the country's future, Prime Minister Vladimir Putin has said at a meeting with religious leaders and members of non-government organizations.
The premier noted that many states are facing the problem of conflicts that arise from ethnic -hatred. He stressed that solving both inter-ethnic and inter-religious issues is crucially important. Due to a range of reasons, the process of migration has turned global in the modern world, Putin noted. The number of migrants in Russia is about 7-10 million, which is about the same as in the US or European countries. The PM emphasized that "migrants should be protected by the law and public morality, which is equally important". At the same time, he pointed out, citizens should be taught to respect each other and when someone relocates, "he should respect the culture, language and customs of the people with whom he's decided to live".Quite a few states unite people of different ethnicities on their territories. However, Russia is home to over 180 peoples and ethnic groups. "I doubt that any other country can boast such ethnic, religious or cultural diversity," Putin observed.On Tuesday, the PM discussed the problem of xenophobia and ethnic conflicts with the heads of traditional Russian religious confessions – the Orthodox Christians, The Muslims, The Jews, and the Buddhists – as well as representatives of some public organizations. The meeting was held at the headquarters of the recently created political movement, Putin's brainchild – the All-Russian Popular Front in central Moscow. The Prime Minister called on the participants of the gathering to use the movement as a basis for dialogue. "I would like you to use [the Popular Front] on a permanent basis, so that we could bring to light the problems we are facing and suggest the most efficient ways to solve them," he said. The government, for their part, would provide assistance and possibly nominate a coordinator for such meetings. As one such possible candidate for the post, Putin suggested vice prime-minister Dmitry Kozak. The Prime Minister also promised that a new structure will soon be set up in the government to deal with inter-ethnic problems.
You can share this story on social media: