Confrontation of radicals in power is road to nowhere – Putin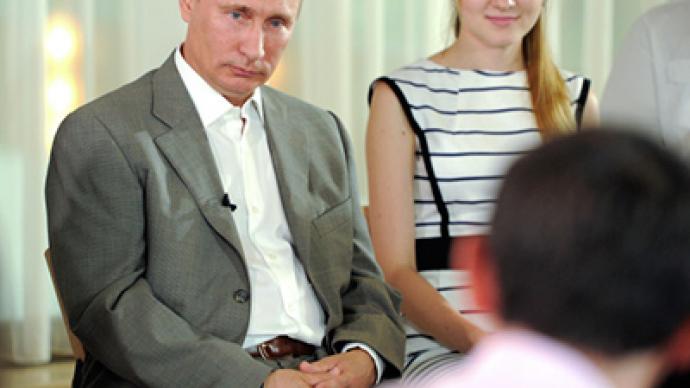 Russia's Prime Minister Vladimir Putin has warned against radical groups getting into power, saying that their confrontation is "a path to nowhere".
At a meeting with North Caucasian youths in the city of Kislovodsk, Putin touched upon the tricky issue that many countries in the globalized world are now facing – building up relations between different ethnic groups and religions. Speaking about xenophobia and tolerance, the premier referred to the European example, saying that some countries on the continent are having problems with women who want to wear an Islamic veil."Perhaps, I should not speak on this topic, since I may receive some criticism, but, nevertheless, I will," Putin went on."Of course, people should be allowed to live the way they want to. But when they enter a different cultural environment, they should respect the people they have decided to live with," the premier pointed out. Putin stressed that if migrants' behavior is seen as religiously and culturally aggressive by the locals, and if it is rejected, those who come to live in a different place should take it with understanding, and not attempt to impose their rules."I accept that there are people with very radical views. But then [they] should go and live where such views are considered normal," he stated, as cited by RIA Novosti. The head of the Russian government emphasized that it is necessary to respect representatives of a different culture, religion or language.When certain borders are being crossed, and locals see that the authorities are not protecting them, it leads to "radical elements finding their way to power". As a result, "radical elements" spring up on the opposite side to confront their opponents, thus making the situation worse. "It is a path to nowhere," Putin believes.
Internal borders cannot be changed
The Prime Minister said that it was impossible to redraw the borders between the internal republics of the Russian Federation, as this might cause a chain reaction of territorial disputes."We have two thousand potential territorial disputes in Russia, including those between some North Caucasus republics, even between very close peoples, practically one people divided between various subjects of the federation," Putin told the representatives of the youth organizations of the North Caucasus Federal District. "This Pandora's box must not be opened in our country for any reason. If we start to divide something, we will never stop," the Prime Minister said. At the same time, Putin stressed that the positive experience of mutual coexistence between varied peoples must be popularized and reproduced. The Prime Minister said that South Russia's Stavropol Region, which is home to dozens of ethnic groups, must become an example for other regions and territories.
We are all children of one Mother Russia
Speaking to youths from the North Caucasus, Prime Minister Vladimir Putin said that Russia's future depends on the consolidation of people of different ethnic groups and religious persuasions. At the same time, Putin said that it will be easier to build a multi-cultural society in Russia than in Europe, as Russia has historically existed as a multi-religious and multi-ethnic country. "A special culture of mutual cooperation has been forming in our country for centuries," the Prime Minister said."It is easier for us, as we are all children of one mother – Russia". Putin strongly criticized some tendencies that appeared in Russia after the collapse of the Soviet Union, as some border regions started to seek some other countries they could "cling to", like Finland in the West and Japan in the Far East. Putin said that such an approach was a definite mistake. The Russian Prime Minister also said that the peoples of the North Caucasus had demonstrated justifiable caution when they were dealing with various branches of Islam. "People who have no relation to traditional Islam have started to press their order on us, but the spiritual leaders in the Caucasus understood this, and this has allowed us to break the back of terrorism," Putin said.
Tourist sector as future source of wealth
Putin also stressed the importance of the tourist sector for the economic development of the North Caucasus region. He stressed that the common stereotype about "proud highlanders" who cannot work in the service sector had been disproved in the real world, even during soviet times, and besides, the tourist sector requires highly-skilled work, and any approach to it will change when people start to understand that their own wealth depends directly on tourists. Putin also said that the lack of desire or ability to work on a higher level could be traced back to problems of low cultural development and mentality. The Prime Minister expressed hope that residents of the North Caucasus would do their best to develop the region's tourist sector, including the cooperation with law enforcers that will ensure the tourists' safety.