Candidates speak out on presidential powers, vote & Putin plot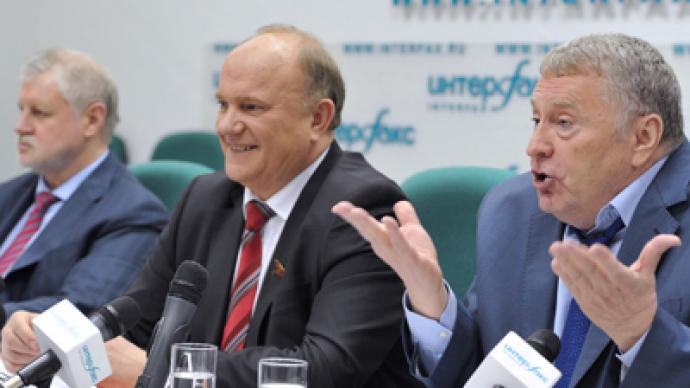 Three out of the five contenders in the Russian presidential race – Vladimir Zhirinovsky, Gennady Zyuganov and Sergey Mironov – have met for a new type of debate to be grilled by journalists, instead of fighting with each other.
All three once again voiced their readiness to hold an early State Duma vote if they win the March 4 poll. Vladimir Zhirinovsky, leader of the Liberal Democratic Party (LDPR) vowed to change the Constitution and make Russia a parliamentary republic. "Then, during a chamber session we'd elect a head of state through secret ballot," he said, as cited by Interfax.Unlike his rivals, Communist party leader Gennady Zyuganov said he is not against introducing the post of Vice President in the country, since that way presidential powers would be limited. "Today the president appoints everyone, dismisses everyone… awards everyone and isn't responsible for anything. He has more powers than a pharaoh, tsar and secretary general together," the KPRF head stated. Sergey Mironov, the Fair Russia party candidate, believes "it's absolutely unreasonable" to return to a vice-presidency, and recalled that in the past "nothing good came out of it".He is confident that in the next 15 years Russia must become a presidential republic, but some of the presidential powers should be given to the parliament.The politicians also commented on Monday's reports regarding the planned assassination attempt on another presidential hopeful – Prime Minister Vladimir Putin. All three opposition candidates agreed that the news was part of an election campaign stunt. Meanwhile, the news about the planned murder attempt "affected neither Putin's mood, nor his working rhythm," the PM's press-secretary Dmitry Peskov told Komsomolskaya Pravda daily."Unfortunately, we still have enemies," he stated. Peskov said those "bandits" oppose Putin's efforts to achieve "full stabilization of the situation in the North Caucasus and other regions" and "the preservation of Russia" itself.
You can share this story on social media: