Putin and Obama agree to disagree on Syria
Published time: 19 Jul, 2012 09:28
Edited time: 19 Jul, 2012 13:55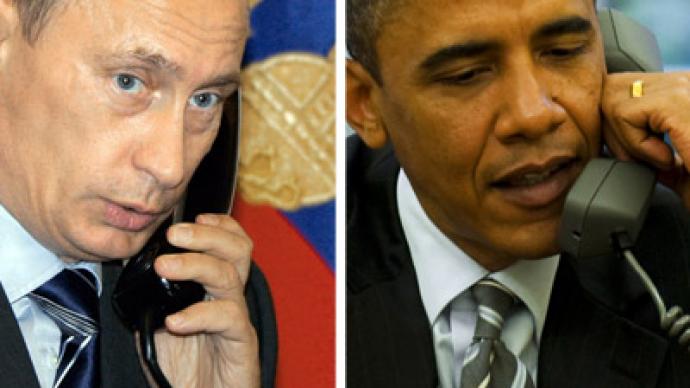 In a telephone call between Presidents Vladimir Putin and Barack Obama, the leaders expressed the coinciding view that a political solution must be reached for ending the violence in Syria, while admitting that differences between them remain.
­"Differences in approaches remain (between Washington and the Kremlin) concerning the practical steps in achieving a settlement," presidential spokesman Dmitry Peskov told reporters following the Putin-Obama call.
The Russian and American leaders spoke after a bomb attack Wednesday killed four high-ranking members of President Bashar al-Assad's inner circle. The attack came one day before the UN Security Council is set to vote on whether to extend the mandate of the UN observer mission in Syria, which expires on Friday.
The unarmed UN observers were granted 90 days to monitor the situation on the ground in Syria, evaluating the implementation of Kofi Annan's six-point peace plan.
Russia and the US have competing views on how to extend the 300-member UN mission. Moscow is opposed to imposing sanctions against Syria, saying that to do so would be tantamount to supporting the aims of the rebels.
Meanwhile, Moscow, imploring the West not to take sides in the Syria crisis, continues to practice what it preaches as Foreign Minister Sergey Lavrov met with prominent Syrian opposition activist Michel Kilo in Moscow on July 9. The negotiation process continued two days later when Lavrov met with Abdel Basset Sayda, the head of the oppositional Syrian National Council (SNC).
Presidential aide Yuri Ushakov told reporters on Thursday that Russia's position "boils down to the thesis that pressure must be applied not only to Syrian authorities but to the opposition forces as well."

On the topic of the bomb blast in Damascus on Wednesday that killed four high-ranking officials, Ushakov said Russia reaffirmed its firm position that it "condemns terrorist attacks, whoever commits them."
Concerning the conversation between Putin and Obama, the White House stressed the need for a coordinated political approach to ending the violence.

"The two presidents noted the growing violence in Syria and agreed on the need to support a political transition as soon as possible that achieves our shared goal of ending the violence and avoiding a further deterioration of the situation," the White House said.
Peskov said the conversation showed that Putin and Obama "have a coinciding view of the general situation in Syria (and agree) on the end goal of reaching a settlement."
"President Obama also took the opportunity to express condolences on the tragic loss of life resulting from flooding in southern Russia earlier this month and reiterated the US readiness to provide assistance if needed," the White House statement said.