Putin to name new govt prior to inauguration – report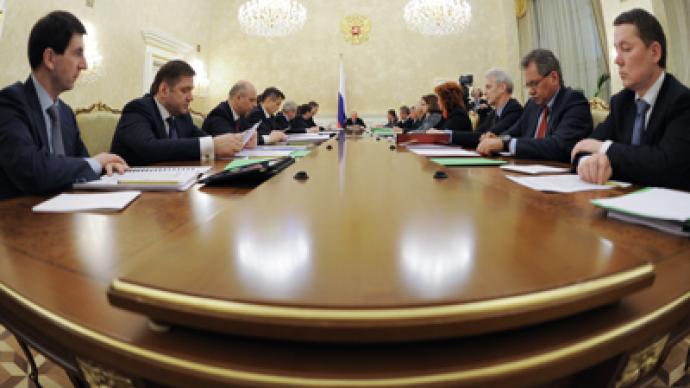 The new composition of the Russian government could be announced even before the presidential inauguration on May 7, a business daily reported, quoting Vladimir Putin's press secretary.
RBC newspaper said in an article that Putin will announce the government structure and particular pretenders for certain posts before his inauguration as president and Dmitry Medvedev's promised appointment as prime minister.The newspaper claims that Putin's press-secretary Dmitry Peskov confirmed such plans, though the official said that it was not yet clear how exactly the plan will be implemented – there is no fixed format for such action in Russian legislation. According to the report, the talks and consultations over the new government started about two years ago, but Kremlin insiders claim that there is no actual discussion and the "new scheme is being drawn at the very top" – by the president-elect. An unnamed source in the presidential administration also suggested that the new government could be presented on April 11 – when Putin will make his last report to the lower house of parliament, the State Duma, as prime minister. Experts assess the plan as reasonable as it will allow the rows and intrigues that inevitably appear as the government is formed to be cut short. It will also give Putin an opportunity to smooth the transition to the new set up in Russia's top echelons of power and maintain stability which is the cornerstone of Putin policy and elections program.However, President Dmitry Medvedev's press secretary, Natalya Timakova, announced a short time later that the composition of the new cabinet of ministers can be made public only after the new chairman of the government is appointed. "All staffing and structural decisions on the new government will be voiced only after the new prime minister's candidacy is approved by the State Duma," Timakova told RIA Novosti news agency. She added that Medvedev and Putin are continuing the consultations on the possible structure of the new government.
You can share this story on social media: