No primaries for Putin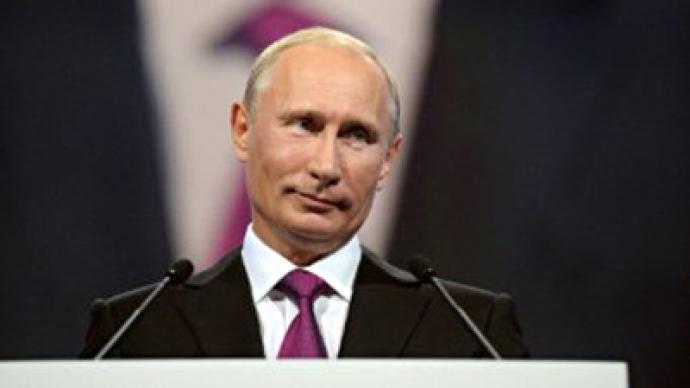 Vladimir Putin does not need to contest primaries in order to run as United Russia's presidential candidate, Prime Minister Putin's spokesman, Dmitry Peskov, has said, quashing media reports to the contrary.
Russian TV Channel Rain reported earlier that in putting forward Vladimir Putin's candidacy, the United Russia party had violated its own Charter, since a candidate should go through the procedure of primaries.  However, according to Dmitry Peskov, such reports give a distorted and incomplete picture of the real legal practice."The media were referring to item 8.1 of the 8th chapter of United Russia's Charter. This item does not regulate the procedure for putting a candidate forward for the post of president," he said, as quoted by RIA Novosti news agency. Item 8.1, cited by Rain and Peskov, reads that "conducting of preliminary voting within the party is obligatory for procedures connected to defining candidates due to run for parliament, or for other electable positions within governing institutions, as well as local governing bodies." According to Peskov, however, the media ignored items 8.3.4.1 and 7.4.3.1 of the Charter which give instructions for putting forward presidential candidates specifically. Item 7.4.3.1 of the Charter reads that it is the party's Higher Council Bureau which puts forward a presidential candidature to the General Council Presidium. The candidature is then "nominated" by the party's Congress.Item 8.3.4.1, in turn, says that "Congress decisions are made by majority vote."According to the Charter, the Higher Council is elected by the party Congress for the period of four years from "prominent public figures and politicians of the Russian Federation, having high standing in Russian society and the international community, who have been members of the party for not less than a year." The General Council, elected for four years and consisting of up to 155 party members, acts as the party's governing body in the periods between Congresses. Dmitry Peskov assured RIA Novosti news agency that all legal formalities will be strictly observed in putting Vladimir Putin's candidature forward.  "There are no doubts that all intricate party procedures will be carried out in full measure," he said. Russian President Dmitry Medvedev proposed Vladimir Putin as United Russia's candidate for the presidency at the party Congress on September 24. Another congress on November 27 is expected to confirm him as the party's candidate for presidency.