Russia ready to broaden cooperation with Afghanistan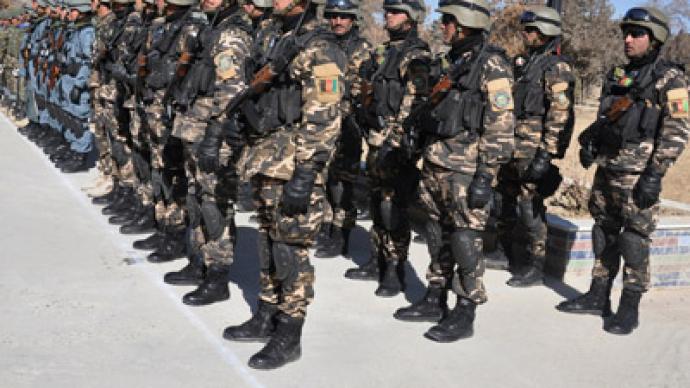 With the US-led war in Afghanistan hitting the rails, Russia is ready to lend a helping hand on the economic and security fronts, President Vladimir Putin told Afghan President Hamid Karzai in Beijing on Thursday.
Given Russia's own lengthy experience in Afghanistan, a country that has been dubbed 'the graveyard of empires,' Putin sees an opportunity for mutually beneficial cooperation."I am talking about the possibility of rebuilding what was done by the former Soviet Union, as well as new projects," the Russian leader said. Russia is willing to continue to provide security assistance to Afghanistan, he added."Afghan servicemen undergo training in Russia, and we are ready to assist in every possible way in the process of forming and strengthening the Afghan security and armed forces," Putin said.The Russian President also mentioned other areas of cooperation between the two states."Our humanitarian cooperation is proceeding well," he said. "Afghan students study in Russia, and whenever there is a particularly critical situation our Emergencies Situations Ministry steps in."Russia also assists Afghanistan through an air-supply corridor that NATO forces use to deliver non-military supplies into the war-torn Central Asian country. Meanwhile, Putin extended his congratulations to Karzai on Afghanistan receiving observer status in the Shanghai Cooperation Organization (SCO) during the course of a two-day session of the SCO Council of the heads of state, which closed in the Chinese capital on Thursday.Moscow has good reason to be concerned about the situation in Afghanistan. Aside from the obvious export of terrorism, the country is also notorious for its export of opium, the raw material of heroin, which is increasingly finding its way into Russia's inner cities. There are approximately 2 million drug addicts in Russia, while an estimated 100,000 Russian citizens die of drug-related illnesses each year, according to statistics from the Federal Drug Control Service.Afghanistan has been the theater of war for Coalition forces – as well as the Taliban and al-Qaeda – since October 7, 2001 when the United States opened a military offensive in retaliation for the terrorist attacks of Sept. 11.The War in Afghanistan, which is United States' longest running war, has resulted in an estimated 15,000 civilian deaths.