Putin on "wasting terrorists in the outhouse": wrong rhetoric, right idea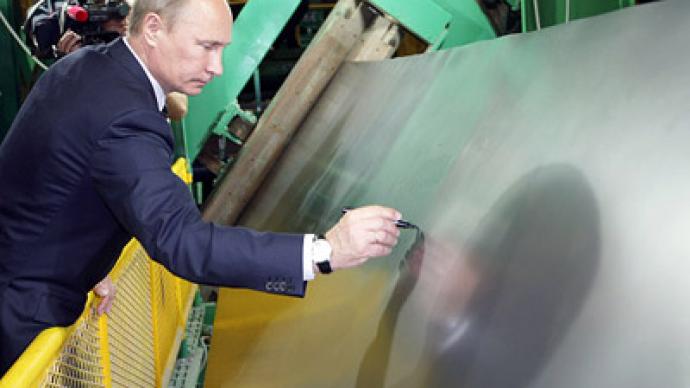 Russian Prime Minister Vladimir Putin has said that he does not regret saying his famous phrase over a decade ago on "wasting terrorists in the outhouse".
On Friday, during a meeting with workers from a Magnitogorsk iron and steel plant in the Chelyabinsk region – Putin confessed that more than once he had had to make risky decisions which were necessary for the country, though could have cost him his political career. The premier recalled the tragic events of August 1999, when Chechen militants and islamists launched an invasion into the neighboring Russian Republic of Dagestan, later attempting to invade one of its major towns – Khasavyurt. At that time, Putin visited the region and saw the devastating consequences of the war.Later, in September 1999, when he briefly served as prime minister during Boris Yeltsin's presidency, Putin told Russian TV:"We are going to pursue terrorists everywhere. If they are in the airport, we will pursue them in the airport. And if we capture them in the toilet, then we will waste them in the outhouse. … The issue has been resolved once and for all". This phrase is, probably, the most well-known of Putin's, at one time being considered as something like his unofficial pre-election slogan.He recalled that initially he felt regret for having used such language, which was not really appropriate for an official of his stature."I had gone somewhere on a visit and returned to St. Petersburg absolutely upset. A friend asked me what was wrong. I said I had blurted out something unpleasant, something which was out of place. Too bad. Being at such a high level [of officialdom], I should not have been wagging my tongue like that," the Prime Minister said. His friend, in response, noted that "a taxi driver just told me that a guy had appeared in the government who was saying the right things". Today, twelve years on, the Prime Minister does not regret his rhetoric. Talking to the workers in Magnitogorsk, he said that the form in which he presented his thought was, perhaps, not correct. But the meaning behind it was still right. According to the president, it is important to act honestly and reasonably. Thinking back to 2000, when he won the presidential election for the first time, Putin said that the country was living in the conditions of a civil war. Now, despite all of the hardships, terrorist attacks, and victims, "the situation is completely different". Speaking about terrorists, the premier said that those who are still remaining "have been driven into caves".
How to become president: Putin singles out the key quality
The prime minister believes that honesty is the most important quality for a presidential candidate, as well as for any other top official or head of a large enterprise.One of workers in Magnitogorsk told the Russian premier that that he had a son and was wondering what qualities should be expected of anyone aspiring to the nation's highest office. "What is needed to become a president? In my opinion, the most important quality is honesty. [It should be] honesty in everything – in relations with one's family, colleagues, and the state," Putin said. He added that he is deeply convinced that this quality is not only crucial for a president, but also for a regional head or the manager of a large business. "Then, of course, one needs knowledge, professionalism, skills in building relationships with people," he noted, as cited by RIA Novosti.A dishonest person, "who cannot keep his word", should not be allowed to lead a group of people, let alone the state, Putin emphasized.Answering a female worker's question on what achievements the Prime Minister considered to be his most important, Putin said that a lot has been done for Russia's development over the past decade. There is still a lot of work to be done though.According to the PM, they main task for authorities is to ensure a normal life for the people. In that respect, the number of the poor has "decreased significantly" in recent years, though there are still a lot of people living in poverty and that needs to be worked on. Putin recalled that the country's economy has doubled during the years of his presidency and premiership. "It is very considerable for any country," he noted, as cited by Itar-Tass. As to what has yet to be done, the head of the government said that the country needs "new instruments, new people, new ideas, deep modernization and innovative processes, in order to provide for rapid economic growth, the social sector, and the strengthening of the political fundamentals of our society".
You can share this story on social media: