Run-off possible, but may destabilize Russia - Putin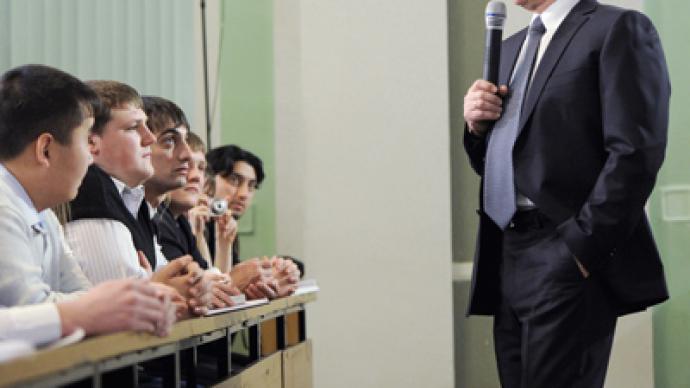 Presidential candidate Vladimir Putin says he does not rule out a run-off in the upcoming election but is concerned it could destabilize the political situation in the country. However, he insists he is ready for battle.
"Of course, I wouldn't run if I wasn't expecting to win," Putin said. He expressed the hope that people who appreciated his work during his first two terms as president and then as PM would come out and vote for him on March 4.The presidential hopeful also admitted he was worried that some people might skip the voting. "There is a danger that a lot of my supporters might not come, thinking that Putin would win anyway and they have nothing to do there. [They might think] that the [authorities] will do something to make sure that he wins," he said."We won't be doing anything [illegal]," Putin underlined at a meeting with young lawyers who will act as election monitors.The Russian Prime Minsiter stressed that he wants people to understand that the presidential vote will be fair and transparent. That is one of the reasons why he welcomed the young lawyers' initiative to form a Corps of Monitors, he added. The PM also noted that he is not opposed to the body's cooperation with other watchdog groups such as Golos or Grazhdanin Nabludatel (Citizen Observer).Putin also criticized his opponents' presidential programs for being 'ill-timed" and unrealistic. However he said if he wins the vote, he would consider inviting members of opposition parties to work in the government.
You can share this story on social media: