­Putin takes Russian hybrid car for a test drive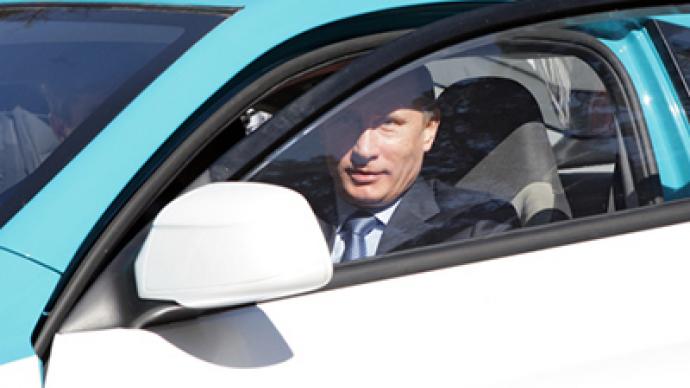 Prime Minister Vladimir Putin took the new Russian hybrid car, called the Yo, through a test drive, adding to his extensive list of vehicles he has personally put through the turns.
After concluding a session of the high technologies and innovations commission, Putin inspected two cars, named Yo and Yo-mobile, a brand that was developed by the Yarovik company, a part of the Oneksim group. Russian billionaire Mikhail Prokhorov, the head of the Oneksim Group, and Yarovik director Andrei Biryukov were there to personally present the vehicles to the head of the government. Putin took one of the hybrids for a test drive, traveling from his residence in Novo-Ogaryovo to the residence of President Dmitry Medvedev in Gorki, about 10 kilometers away. After his test drive, the prime minister said he liked the car, but admitted he was a bit puzzled by its name ("Yo" is a letter unique to the Russian alphabet). Yo is part of a Russian project to develop and build several small cars on the same hybrid platform. The price of the vehicles range from 350 to 450 thousand rubles (10-15 thousand US dollars) and the developers say that Yo's average fuel consumption is about three-and-a-half liters per hundred kilometers. The car, which has a maximum speed of 120 kilometers per hour, can go 400 kilometers on a single tank of gas.Biryukov told Putin that it is planned that the vehicle will eventually run on natural gas, thus improving ecology standards.
You can share this story on social media: