Putin wants US to support non-politicized dialog on WWII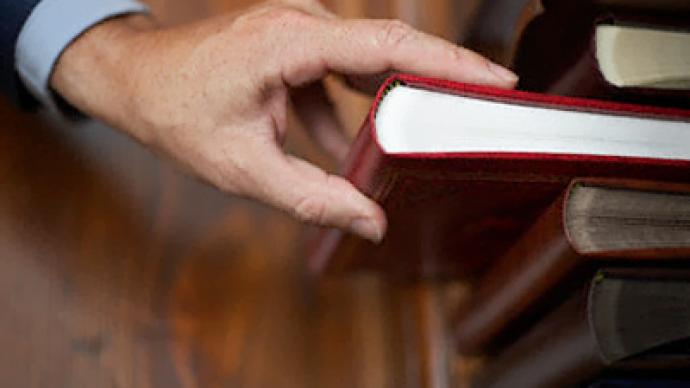 The Russian prime minister has explained why the truth about the war should be defended, and recommended to US readers his favorite books about Soviet soldiers.
America's World War II magazine has published an article by Vladimir Putin in which he shares his views on studies of the war. The premier also wrote about his favorite books on WWII. Putin thanked the magazine for the opportunity and praised it for its serious, balanced and objective attitude to one of the hardest pages in civilization's history. He highlighted the story the magazine had published about the plight of the people living in Leningrad under the fascists' siege.In Russia, practically every family has been affected by the war. "Pride for the victory and pain over losses are passed on from one generation to another," Putin said. That is why Russians take any falsifications and time-serving distortions of the history of WWII as a "personal insult and sacrilege."  "For us, it is very important that this position is shared by the majority of people all over the world," the premier said. The voice of scholars and journalists who speak about the truth of the war, about the experience of the allies' relations, about heroes and war criminals, should be heard.Russia is proud of its outstanding authors who fought in the war, Putin wrote. "I would recommend you to read their honest books, written without hypocrisy and pompousness."   Foreign readers could learn a lot about selflessness and the great patience of simple Soviet soldiers from books by Boris Vasilyev (The Dawns Here Are Quiet and His Name Was Not Listed) and Konstantin Vorobyov (They Were Killed Near Moscow and It's us, Lord).  People in other countries would not be indifferent to heroes of novels and stories by war correspondents Konstantin Simonov (The Alive and the Dead) and Mikhail Sholokhov (The Fate of a Man and They Fought for Their Country). Vladimir Bogomolov wrote in his book, The Moment of Truth, about the dangerous work of war counter-intelligence. These and many other books by Soviet authors have been translated into foreign languages and made into films.  Russian historians and experts are collaborating efficiently with colleagues from Germany, Poland and other European countries, Putin wrote. They are declassifying archives, conducting roundtables and joint workshops focused on World War II, "a pivotal, dramatic, and at times disputable and by no means unambiguous event of the 1930-40s." "We support such an academic, non-politicized, disengaged dialog," Putin said. The premier also expressed hope that US specialists will join these projects in the future as well. "Let's take care of and defend the truth together," Putin wrote.
You can share this story on social media: