Prokhorov abandons plan for 500-member party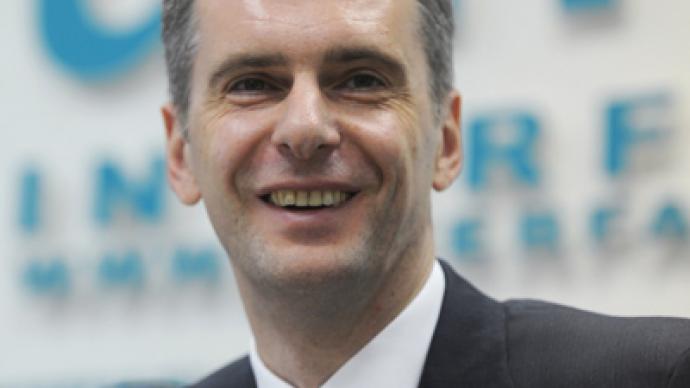 Billionaire politician Mikhail Prokhorov has once again reconsidered plans for the composition of his party, claiming he is now inclined towards a more traditional model.
The changes will be announced at the October convention of Prokhorov's Civil Platform political party, the Kommersant daily newspaper reported. Prokhorov said in an interview with the newspaper that he only needed a few weeks to register the party's branches in Russia's various regions, and claimed that famous and influential individuals will be appointed as the leaders of these branches. Civil Platform will also abandon its controversial "structure of 500 lawyers" and follow other traditional national political organizations, Kommersant cited sources in the party as saying.Prokhorov suggested in June that his party would represent a new experiment in politics, with a structure of 500 members who are already famous or semi-famous leaders of public opinion. "The sole objective for this party is to get a political license that would allow the leaders of public opinion to win at the elections," Prokhorov said at the time. He now claims he will increase the number of members allowed in the party, and also create an apparatus for supporters who are not ready to join the Civil Platform but still wish to participate in its endeavors. Civil Platform will not put forward candidates for this fall's regional and municipal elections, but will support representatives from other parties and movements if they share the Civil Platform's right-wing ideals, Kommersant reported.Experts believe that the proposed changes could increase Prokhorov's political influence. "At last, common sense prevailed. Prokhorov showed a good result at the presidential poll, and if he positions himself well, he has a chance to attract the rightist-liberal camp," Aleksei Mukhin said to Kommersant.In the same article, however, Director of the Russian Institute of Electoral Technologies Yevgeniy Suchkov claimed that Prokhorov's experiments had led to mistakes and a loss of momentum, and that the billionaire would now have to spend more time and money to achieve significant results.