Defense Ministry corruption probe to take at least 1 year – chief investigator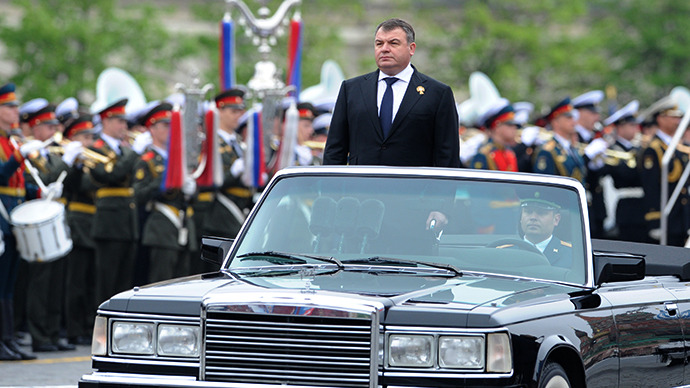 Investigators plan to use independent financial experts to check ex-minister Serdyukov's involvement into recently uncovered multi-million embezzlement schemes. Therefore the probe could take one year or more.
Aleksandr Bastrykin, head of Russia's main law enforcement agency the Investigative Committee, said on Thursday that independent financial and economic experts were hired within each of several probes started into suspected power abuse and embezzlement in structures affiliated with the Defense Ministry.
"We need substantial proof to forward the case to court, especially when the [former]defense minister and his aides are involved. Such proof is gathered when specialists' knowledge is applied. Because of this we have ordered financial and economic expertise in all cases and independent experts will tell us which decisions were right and which were wrong," Bastrykin told reporters.
He added that he did not expect the expertise to end soon.
"I think if we do it in one year it will be great."
The top investigator noted that the number of cases was growing, as was the amount of estimated damage to the state budget.
"We first announced the suspected damages at 3 billion rubles (about US$100 million) and now it already exceeds 13 billion (over $430 million). New cases are being opened against different people. But we cannot exaggerate here, because some assets had to be sold and this is what [newly-appointed Defense Minister] Sergey Shoigu is doing right now," Bastrykin said.
He shrugged off the suggestion that the former minister could flee and hide in a foreign country, saying that right now there was no place where Serdyukov could potentially hide from Russian justice.
A day earlier Russia's top prosecutor Yury Chaika said that authorities were investigating 25 separate instances of fraud in the so-called Oboronservis case involving the illegal sale of the Russian Defense Ministry's property. Oboronservis company carries out a variety of services relating to Defense Ministry property, including repair and upkeep of equipment and real estate.
When the case was opened it soon led to sacking of Defense Minister Anatoly Serdyukov from his post. Serdyukov has repeatedly been summoned for questioning as a witness in the case, but every time has refused to give testimony citing the article of the constitution that allows him not to incriminate himself.
The suspects in the case are Serdyukov's former aide and reported close friend Evgenia Vasilyeva, several his former subordinates and even his brother-in-law Valery Puzikov, who is suspected of fraud involving a land deal.

You can share this story on social media: