Pro-Putin opposition head: removing "against all" protest vote a mistake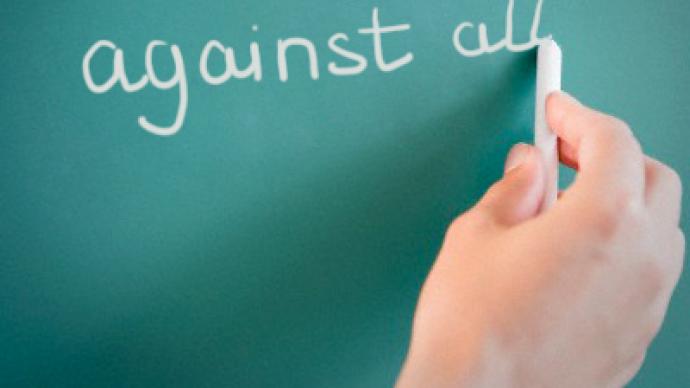 The decision to remove "against all" choice from ballots was a mistake, Sergey Mironov, the Federation Council Speaker and the leader of Fair Russia opposition party has said.
Russia is gearing up for the 2011 parliamentary and 2012 presidential elections. According to the upper house speaker, Mironov, the 2006 Kremlin-backed decision to remove the "against all" option – also known as a protest vote – from ballots in all elections was a mistake. Founded in 2006, Fair Russia presents itself as an opposition to the parliamentary majority United Russia party, but its political program was also built on support of Prime Minister Vladimir Putin and their criticism of the United Russia was based on means rather than ends. This was the first time that Fair Russia had suggested some crucial legislative changes.The "against all" choice "is a kind of a political thermometer that measures temperature within society," he said in an interview with Komsomolskaya Pravda daily. "We broke that thermometer and threw it away. Has the society got any healthier after that? Of course not."The politician believes that the protest vote served as a barometer that helped authorities to understand citizens' sentiments. "When people say they are fed up and believe no one, it means it is time to change something," Mironov added. With only a year left before Russia elects its new head of state, the main intrigue remains undecided: will incumbent President Dmitry Medvedev or Prime Minister Vladimir Putin run for president. On a number of occasions both Medvedev and Putin said they would make a joint decision on their participation in the election and ruled out the possibility of "elbowing each other out of the way".But so far, the tandem has not given a clear answer. Commenting on the matter, Mironov once again reiterated what Russia's leaders had previously said: Putin and Medvedev would decide themselves who will be running for the country's top job. "They will sit down, talk and make some sort of decision," the Speaker said. "Who knows, they might decide that a third candidate should emerge," he added. The possibility of that mysterious third candidate appearing was first voiced last August by President Medvedev, when he said "I do not know who it will be in 2012 and who will be running [for the presidency…It might be Medvedev, it might be Putin, and it might be someone else." Sergey Mironov is confident that in any case, the decision will be made through calm and friendly cooperation "that exists between [the president and the prime minister]".The politician emphasized that Putin and Medvedev were "comrades and like-minded persons". However, he added, they have different opinions on what is happening in Russia and abroad. "It is normal. It would be strange if the thought the same way and gave the same assessments," Mironov added. Responding to a question on whether people's opinions might be ignored in the elections, the parliament Speaker said that this would not be the case and "Our multiethnic nation will decide on who should become president."He said that people will see how the leaders act, what new challenges emerge and how the leadership reacts to them. As for his personal plans for the 2012 election, Mironov said it would be up to his party to make a decision on whether he should throw his hat into the ring to run for president or not. "The decision will be made in autumn. That is all for now." The Senator also commented on the inter-ethnic conflicts that have been on the rise lately in Russia. Mironov believes that it was unacceptable when so-called enclaves appear in the areas which were traditionally inhabited by one nation or another, "mainly Russians". People of other ethnicities come to those areas and "first they settle in one house, then they occupy two houses, then half of the street and, finally, half of a village," he said. Migrants do not want to respect local traditions, instead they bring their own, which often leads to conflicts with residents. Mironov believes that it is not people but authorities who should be blamed for making it possible for such enclaves to emerge. Quite often it is a result of corruption as municipal officials "think about nothing and sell registration [to migrants], then land and houses," he said.
You can share this story on social media: