President Medvedev and King Juan Carlos I to unfurl Russia-Spain cultural exchange year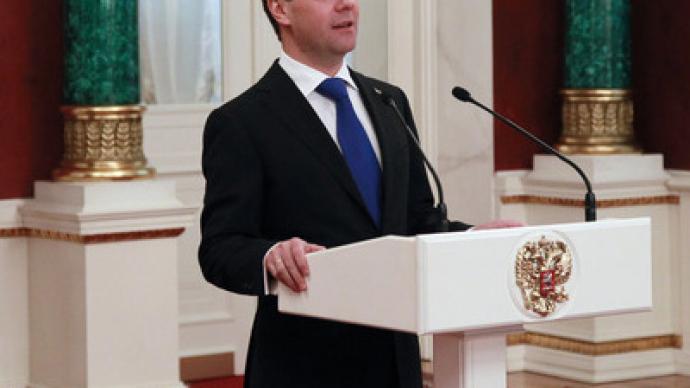 President Dmitry Medvedev will meet Spanish King Juan Carlos I later on Thursday in St. Petersburg. The Spanish monarch comes to Russia on a working visit to unfurl the Russian-Spanish cultural exchange year.
Economic talks are also high on the agenda.A working dinner for the leaders is scheduled for Thursday. Both countries' cabinet ministers and their distinguished business leaders will also be attending. Additional events and talks are expected to take place on Friday. "His Majesty is coming here to open the Year of Spain in Russia and Russia in Spain. This will be the first time in history that Spain is honored with this distinction," Spanish Ambassador Juan Antonio March told Interfax. "The Year of Spain in Russia is not only cultural. It is the year of Spain and Russia in general," he said adding that the aim of the cultural exchange year is also to boost economic partnership and scientific cooperation.As for the cultural exchange program, it includes mutual tours of Russia's Bolshoi and Mariinsky theaters, Spain's National ballet and other major performance companies, as well as large-scale art shows.Friday will see the opening of an exhibition from the Prado museum in St. Petersburg's Hermitage. It will feature 66 paintings from the Spanish collection including Titian, Velasquez, El Greco, Giotto, Goya. The Hermitage, in turn, will bring 170 exhibits to Prado, which include not only paintings but also sculpture, decorative art pieces and world famous Scythian gold. Spanish Prime Minister Jose Luis Rodriguez Zapatero will come to Russia in June to take part in the St. Petersburg Economic Forum, while the Russian president's visit to Madrid is expected by the end of the year.
You can share this story on social media: