Soviet soldiers' remains in Poland reburied only on paper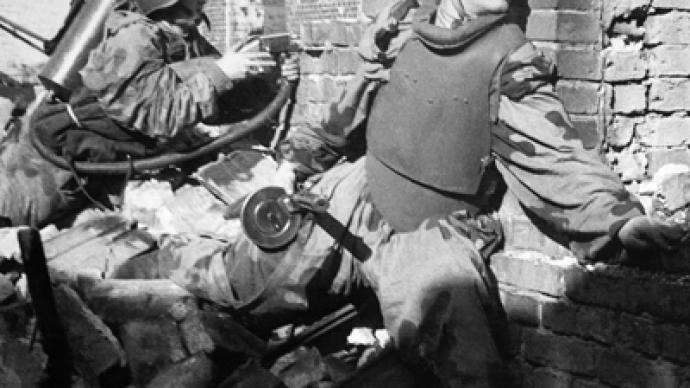 A scandal has erupted in Poland over a mass grave of Red Army soldiers' killed at the end of WWII. Remains were discovered at a grave site which documents suggest was relocated over 50 years ago.
Over a thousand Soviet soldiers were buried in the town of Kostrzyn nad Odrą in western Poland. It was previously known as Küstrin and is less than 100 km from Berlin and was a site of bloody battles in spring 1945, weeks before the final defeat of the Nazi Germany. In 1953, Polish authorities decided to rebury the remains of dead servicemen at large military cemeteries around the country. The exhumation was confirmed by official documents. However a recent dig at what was supposed to be a former mass grave brought to surface some unexpected results. The searchers unearthed remains of at least 110 people – 102 of them lacking sculls or upper parts of skeletons, reported Russia's Channel One. During the exhumation, remains were "barbarically" pulled out of the ground, and only some parts of them were relocated. "It's a shock. This cannot be this way," Zbignev Romanovsky, a member of Polish search group told the news channel. His participation in the work is his way to pay tribute to his father, also a Pole, who reached Berlin with the Red Army.
Another Russian news channel, Rossiya-24 says a local museum reported that allegedly the exhumation of remains was not completed. "It was checked and confirmed that it was really so," said Vyacheslav Polovinkin, a Russia's Defense Ministry mission on military-memorial work in Poland.Russia has demanded an explanation from Polish local authorities."We have copies of protocols of the previous exhumation and names of people who were responsible for it," said Pavel Klimchak, an official from foreign affairs department in Lubuskie Province, western Poland. However, "it is almost impossible" to find those people now and ask them why it all happened that way. By now, all of them are at least 80 years old and many are probably dead, he added. The Polish authorities have agreed to provide proper relocation of the Soviet soldiers' remains. In the spring, researchers plan to start excavating the site of the mass grave. Now the major task is to identify the remains they have already found.
You can share this story on social media: