Polish deputies condemn Minsk, support opposition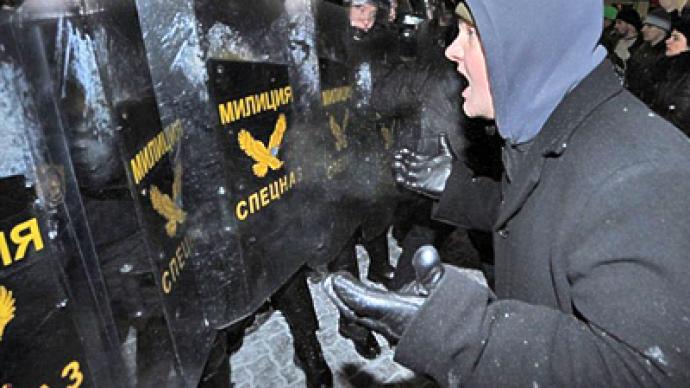 The Polish parliament has adopted a resolution demanding that Belarusian authorities stop cracking down on the opposition, a move likely to boost tension between the two countries.
Members of the lower house, or Seim, voted unanimously on Friday for a resolution that demands that the President Aleksandr Lukashenko's regime stop "political repression" and free all opposing activists.Polish MP's expressed their solidarity with Belarusian politicians and activists who were detained after riots in Minsk following the presidential elections on December 19, 2010. The opposition protested against what they called "fraudulent elections," won by Lukashenko with nearly 80 percent of the vote. The authorities in Belarus have released most of 700 people, but several people remain in custody.The Seim demanded that Minsk release all the detainees and halt the clampdown on the opposition. The resolution also calls for diplomatic sanctions against the Belarusian authorities. At the same time, it stresses that citizens of Belarus should benefit from the opportunities offered by the European Union.The EU earlier had banned dozens of Belarusian officials from entering the territory of its member states as punishment for their role in suppressing opposition rallies. But the Europeans said ordinary Belarusian citizens will get freedom of movement in the EU, access to the labor market and educational programs. Poland was the first country that significantly expanded educational opportunities in its universities for Belarusian students.Several Belarusian opposition leaders are currently in Poland to discuss the situation with local politicians. Poland's President Bronislaw Komorowski last week said that Warsaw would continue to consistently support Belarusian citizens in their efforts to build a civil society. He promised to review "with the greatest kindness" applications for asylum and Polish citizenship. After a recent visit to the Polish border with Belarus, Komorowski condemned a growing wave of reprisals against the Belarusian opposition.Polish MP's adopted the resolution after Belarusian courts began the first trials of opposition activists. One of them, Vasily Parfenkov, was sentenced by a court in Minsk to a four-year jail term for participating in a rally and causing damage to a government building.After the voting in Seim, the relations between Minsk and Warsaw are likely to deteriorate further. Lukashenko had already said he was not afraid of sanctions. And as the Belarusian leadership is banned from the travel to the EU, Minsk has not ratified an agreement on small border traffic with Poland for residents of the border area.
You can share this story on social media: