'No one afraid of protesters' - Putin's spokesman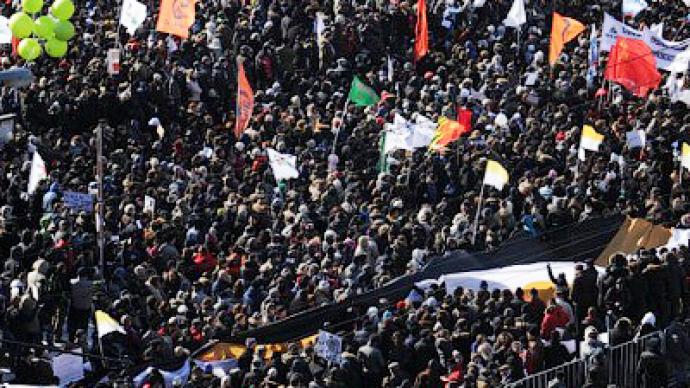 The spokesman for Russia's president-elect says the authorities are not afraid of people who criticize Vladimir Putin. Dmitry Peskov said that only protesters who violate the law are detained.
Asked why Russian authorities are "so frightened" of critics, Peskov told the BBC's HARDtalk program, "No, we are not [frightened]. I think now you produce a classical example of misunderstanding. I'd rather say in this case that you're a victim of the [opposition] propaganda."Peskov stressed that no one is afraid of protesters, including Sergey Udaltsov, the leader of the Left Front movement, and blogger Aleksey Navalny, mentioned by the host of the program. Both opposition leaders were detained several times as a wave of post-election protests swept through the country following December Duma poll and the March presidential vote."There is law in Russia. If you violate the law, if you gather the crowd, and if you start to address the crowd in a way that contradicts the law and regulations, you have to be locked up," Peskov said. For instance, Navalny "enjoyed freedom of expression" during protest actions that were sanctioned by the authorities "and no one took him to custody," Putin's spokesman pointed out. He also commented on the situation with non-governmental organizations (NGOs) in Russia."The US finances some NGOs which are involved in political processes [in Russia]," Peskov said, adding that Washington makes no secret of it and provides sponsorship officially.Meanwhile, it is completely impossible that Russia would be allowed to sponsor such organizations on American or British territory, he noted. According to the spokesman, it does not mean that all Russian protesters get money from abroad for taking part in opposition rallies. However, there are several persons who receive financial aid from the West.
You can share this story on social media: