Urge to merge: Protest party gets legitimate voice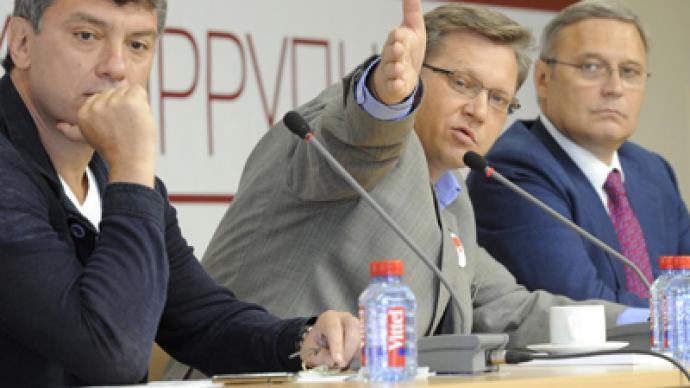 The Republican Party of Russia – one of the country's oldest political entities with roots in the Soviet system - has merged with the unregistered Party of People's Freedom or Parnas, an unregistered opposition group involved in recent protests.
The founding convention approved the new party's name, the Republican Party of People's Freedom, and its program, which stresses opposition to the parliamentary majority United Russia and personally to President Vladimir Putin. The program also calls for the release of those who are seen by as political prisoners by Parnas members, political reforms, and out-of-term parliamentary and presidential elections not later than 2013. At the same time, the new party announced that it plans to participate in the nearest regional elections. The new party also received an emblem and a flag – a deep red bull on a white field.The new party will be ruled by three co-chairmen – Vladimir Ryzhkov, who headed the Republican Party even when it lost its party status, and Mikhail Kasyanov and Boris Nemtsov. The latter two men held top government positions during the Yeltsin era and became opposition figures after losing their places in power. Both Kasyanov and Nemtsov joined the Republican Party not long before the congress.The Republican Party of Russia was first registered in 1990 on the basis of the Democratic Platform – a group of top-ranking members of the Communist Party of the Soviet Union, who supported democracy and reform.Public support to the group was dwindling until it lost its registration in 2007 as Russia approved a new law favoring larger political organizations. The party sued the authorities in all levels of court, but only after it obtained support from the European Court of Human Rights did the Russian Supreme Court cancel its decision. In May 2012, the party returned the registration. This happened after Russian authorities introduced much simpler rules for registering and maintaining political groups, but the Republican Party stressed that it was not registered anew, but returned the registration that was theirs. The Party of People's Freedom or, in its Russian abbreviation, Parnas, was founded in September 2010 and is itself a coalition of many protest groups of rightist and pro-market inclination. Parnas applied for registration in 2011 but the Justice Ministry refused it citing mistakes in the party's charter and the list of its members.