Have Clinton's election barbs put an end to the Reset?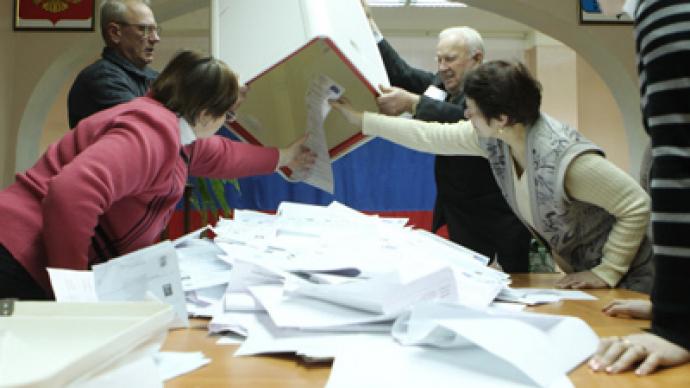 American interference in Russia's internal affairs risks poisoning relations again. Writer and political scientist Igor Panarin is confident that public criticism of the Duma poll by US Secretary of State Hillary Clinton signal the end of the Reset.
In the article below, Panarin explains his view. Several years ago, it was Mrs. Clinton who first publicly declared the beginning of the Reset in Russian-American relations. Now, though, in her speech at an OSCE foreign ministers' meeting in Vilnius, she has effectively heralded the end of the Reset phase between the former Cold War enemies. On December 6, the US Secretary of State urged the Russian authorities to carry out a "full investigation of all credible reports of electoral fraud and manipulation." Note that this was Hillary Clinton's second statement relating to Russia's parliamentary elections. At an international conference on Afghanistan in Bonn, she expressed concern regarding reports of electoral fraud at polling stations during Russia's parliamentary poll. Thus, we heard criticisms of Russia coming from Mrs. Clinton for two days running, something rarely seen in international relations.The person in charge of America's international politics should pay attention to the fact that the USA is the only OSCE member state where presidential elections are not direct. This is a gross violation of international election norms. Even apart from that, America has plenty of election issues. For example, take the fact that huge numbers of Americans residing abroad cast their votes by mail. Did you know that envelopes from over a million American voters come in AFTER the voting results have been announced? That means those votes aren't taken into account at all… At the same time, America often tries to teach democracy to other states, right down to interfering in their internal affairs. The Americans themselves make no secret of the fact that they finance various non-government organizations in Russia. As State Department spokesman Mark Toner said in a press conference, such groups received over $9 million from the US authorities before the Duma elections alone. A question is bound to arise, though – what about the Reset? Imagine Russia supplying, for example, 10,000 warm tents for American protesters in Oakland, Los Angeles, New York, and other cities; all free of charge, simply to aid the democratic process in the USA. What would Mrs. Clinton's reaction be? As for Mr. McCain's reaction, it is hard to imagine at all. So why does the Reset have to be a one-sided affair? At the same time, the parliamentary elections in Russia have shown, of course, the weakness of Russia's opposition, which is rather good at spending its Western sponsors' copious budgets. This poor return on investments, perhaps, is the factor that frustrates Mrs. Clinton most. The latest parliamentary elections in Russia have shown clearly that Russia's political scene lacks a unified opposition force that could play a meaningful part in the elections. All efforts by the USA to form a powerful, unengaged opposition have been in vain. All attempts by the opposition, backed organizationally and financially by a number of Western states (the USA and the UK), to "rock" the internal situation in Russia, have failed. In many respects, this is due to the careful and consistent work of the ruling duo of Putin and Medvedev, who are more interested in political stability than anybody else. At the same time, a conclusion can be drawn that political stability in Russia frustrates immensely a whole range of influential political figures in the USA. Their views are publicly expressed by Mrs. Clinton, which is another proof of the end of the Reset.
Prof. Igor Panarin, Doctor of Political Sciences, for RT
The statements, views and opinions expressed in this article are solely those of the author and do not necessarily represent those of RT.
You can share this story on social media: