Duma deputies promise to fight own absenteeism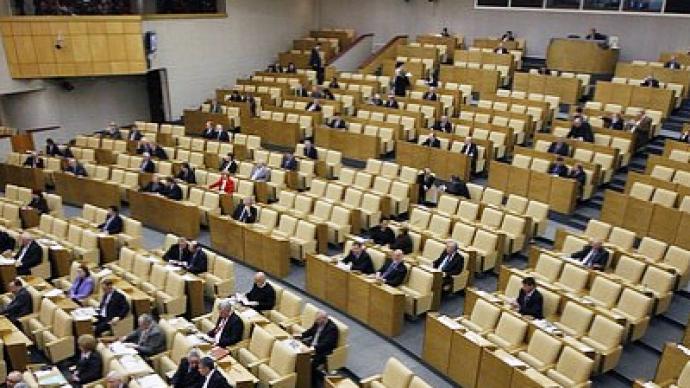 The saga of absentee people's representatives looks one step closer to resolution, after the Russian Duma published a list of acceptable excuses for missing parliamentary sessions.
In April, President Dmitry Medvedev reprimanded Duma deputies for the rows of empty seats in parliament "I am very surprised to see only 10 to 15 per cent of our elected officials present during sessions. They should attend. If they like to go walkabout, we should find them a new place to go walkabout from." The parliament immediately promised to rectify the situation.The new list of legitimate reasons for failing to attend includes standard ones such as holiday, illness or death of relatives, and more specific ones such as "carrying out the work of the Russian Duma", and most controversially "insurmountable circumstances" that prevent a deputy from attending.When asked what these circumstances might be, the Head of the Parliamentary Procedures Committee Otari Arshba listed "delayed flights, traffic jams and home emergencies".
The 450-member Russian parliament (known as the Duma) is dominated by the ruling United Russia Party, which has over two-thirds of the seats. This majority allows the party to pass any law without the need for opposition party votes, meaning there is rarely any consequential debate when future legislation is discussed. As reported in several recent and widely-debated TV exposés, attendance during the six monthly parliamentary sessions often fails to hit triple digits. In the past, quorum to pass laws has been reached by deputies voting on behalf of several of their absent colleagues, using their electronic cards. According to the new rules, deputies have to be present in person during any vote, unless they write an authorization for their colleague.Some analysts say that the effectiveness of the new measures will depend on how often the loopholes are exploited. Also, the new regulations do not list any sanctions for those deputies who fail to comply.Deputies are expected to pass the amendment on Friday.
Igor Ogorodnev, RT
You can share this story on social media: