Russian Paratroopers' Union pledges loyalty to Putin, decries protests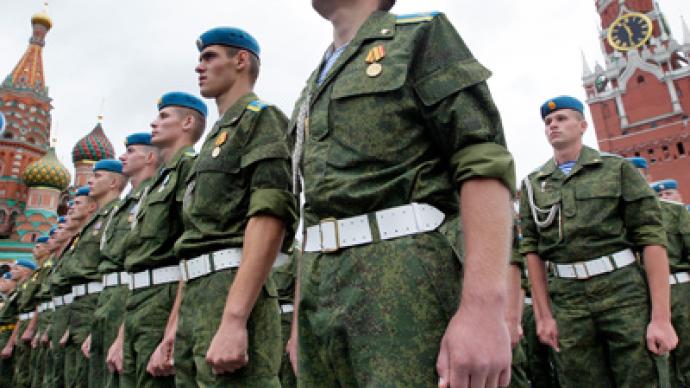 The Russian Paratroopers' Union has refuted reports that some of its members took part in recent protest rallies, blasting internet calls for paratroopers to gather in Moscow and resist riot police at the "March of Millions" planned for May 6.
The statement was a reaction to online posts by alleged former paratroopers protesting against Vladimir Putin's upcoming inauguration. They ask their brothers-in-arms to "come to Moscow on May 6 and defend the protesters from attacks by riot police". The Russian Paratroopers' Union called the posts an obvious provocation. "The Union has backed and honorably outlined its political position aimed at stabilizing the political situation in the country, against the extremist and poorly planned calls by the leaders of the Bolotnaya Square revolution movement that could split the country, as already happened in 1991," the statement reads.The Union added that it conducted an internet poll of more than 20,000 former servicemen of the Airborne Troops, and that the majority (54%) had openly supported Vladimir Putin as the Russian Commander-in-Chief (under Russian law, the President is also Commander-in-Chief of the Armed Forces). The organization asked its members not to allow such a split to happen, and not to take part in any protest rallies.The March of Millions is being organized by several opposition movements. It is scheduled for May 6 – one day before Vladimir Putin's presidential inauguration. Participants plan to protest the results of the recent parliamentary and presidential elections, which they consider invalid due to numerous alleged violations.Some opposition representatives have announced that the rally will take place regardless of the authorities' decision. Later on Thursday, officials from the Moscow mayor's office announced that they  agreed to the 5,000-strong rally in Bolotnaya Square. The latter is across the river from the Kremlin, where the most numerous demonstrations occurred last December in protest at alleged violations during the parliamentary poll.
You can share this story on social media: