Russian MPs support speaker's move to shun PACE session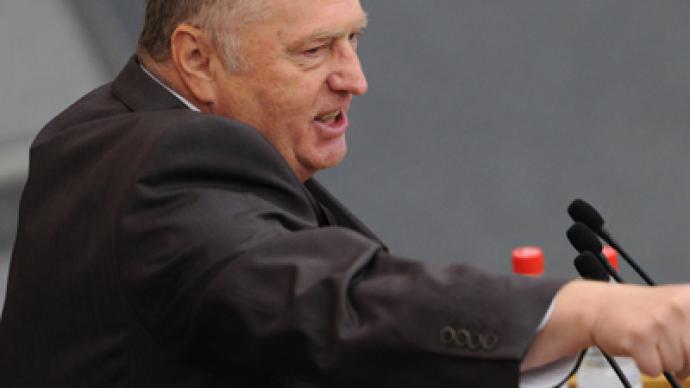 Russian Lower House deputies said that PACE was meddling in Russia's internal affairs and some suggested suspending participation in the organization to save the 20mln euro annual membership fee.
The head of the opposition Liberal Democratic Party, Vladimir Zhirinovsky, outlined the most radical suggestions. He said the whole Russian delegation must not attend the forthcoming Parliamentary Assembly of the Council of Europe session in order to "teach a lesson to the Council of Europe".
He added that Russia should temporarily suspend its membership of the organization and stop paying membership fees. "Let us not give them our fee for 2013, this will save us 20 million euros. When they learn to behave, we will start attending and paying again in 2014," the politician told reporters.
Zhirinovsky also said that from 1996 Russia had paid a total of 300 million euros to maintain PACE. "And this was done for them to challenge us for sending hooligans to prison?" he asked, clearly meaning the scandal with the conviction of the Pussy Riot band members, which reportedly will be brought up in Strasbourg.
Zhirinovsky added that he fully approved of the decision by State Duma Speaker Sergey Naryshkin, who announced one day earlier that he will not be attending the PACE session, as he had doubts that anyone intended to listen to his arguments. "What he did was right. We are not their whipping boys to go there so that they, for our own money, give us lectures on how we should live. Especially when the rebukes are absolutely unjust," the LDPR leader noted.
Another opposition MP, Valeriy Gartung of the Fair Russia faction, told reporters that the draft resolution on Russia was excessively harsh. "Our faction holds that there are problems in our country and we are talking about them, but this is, above all, our internal problem that we will solve without any hints from the outside," Gartung noted.
At the same time, the head of the majority faction United Russia, Deputy Speaker Andrey Vorobyov told reporters that the 17-member Russian delegation will be attending the session that opens next week and as usual Russian parliamentarians will take an active part in the discussion of the agenda and of its urgent issues. Vorobyov, however, said that his faction was supporting Naryshkin's decision to skip the session. "The first trip in history should result in a constructive and meaningful dialogue. But some of the European representatives decided to point at the way we live completely ignoring their internal problems," the Deputy Speaker said.