OSCE police to reinforce Kyrgyzstan's efforts to recover after ethnic riots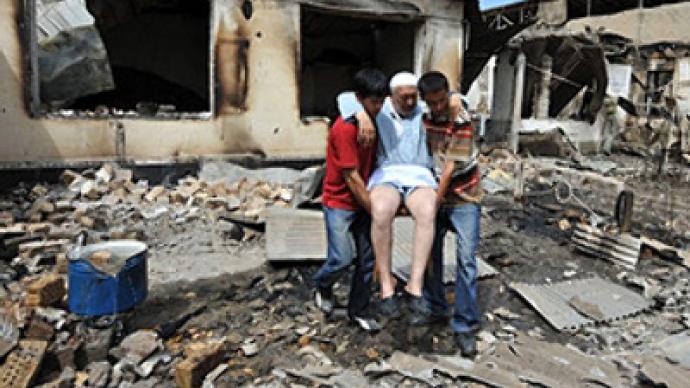 The Organization for Security and Co-operation in Europe is planning to deploy a police force in the Republic of Kyrgyzstan, which was the scene of bloody ethnic clashes in June.
The announcement was made by Herbert Salber, the director of the OSCE Conflict Prevention Center, at a news briefing in the country's capital on Friday.
"I have just held talks with Kyrgyz officials on the deployment of an OSCE police force in Kyrgyzstan. We have agreed that it must be located in southern Kyrgyzstan quickly," he said, adding: "We have also agreed that 52 police officers from OSCE countries will be dispatched to Kyrgyzstan in the initial stage. The police force could be subsequently brought to 102 members."
According to Salber, the policemen will stay in the country for four months, however, the term could be extended if necessary.
The final decision is expected to be made by the OSCE's Permanent Council in Vienna next Thursday.
Kyrgyzstan was heavily shaken by mass riots in the southern region of the state, which resulted in over 300 people being killed in clashes between Kyrgyz and Uzbek nationals. While that is the official figures, some estimates put the number of deaths as high as 2,000. Additionally, thousands were injured and forced to flee their homes. Around 1,800 houses, apartment buildings and cars were set on fire.
Explaining the need for the OSCE police force in the country, Kyrgyz leader Roza Otunbaeva said: "We will take this step because stability has not yet been restored to the extent where normal functioning of the two communities (Uzbek and Kyrgyz) can happen."
She also noted that the policemen will be performing three functions: monitoring, consulting and training.
The exact area where the OSCE police force will be deployed is still to be determined, said Otunbaeva.
The Kyrgyz president also spoke in support of the idea of conducting an international investigation into the riots.
Such a probe could be carried out by officials from the OSCE, the UN and the European Union, said Otunbaeva.
The state leader admitted that there is a threat of further destabilization of the situation in the country with the glaciers beginning to melt, particularly in the Batken region, and drug routes re-opening.
You can share this story on social media: