MPs plan to send protesters to sweep streets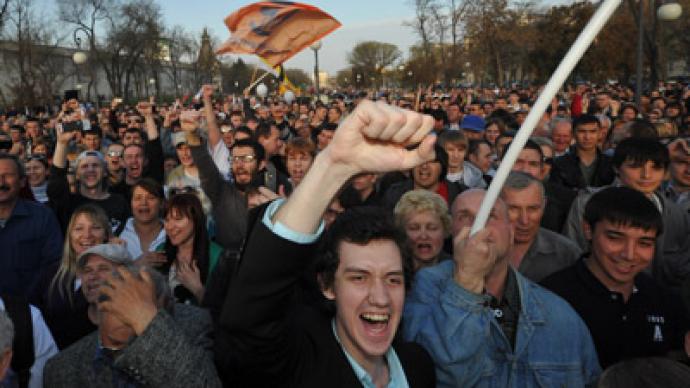 United Russia's deputies have proposed significantly increasing fines for unsanctioned rallies or making protesters who violate the law perform compulsory community service.
Under the bill proposed by the group of MPs from the majority party, organizers of street rallies would pay up to 100,000 rubles (US$3,400) for violations, while participants in such events would pay up to 10,000 rubles (US$340). Currently, the maximum penalty for such violations is 2,000 rubles (about US$67). The amendments were submitted to the State Duma on Monday. The lawmakers also want to introduce tougher punishment for hampering sanctioned gatherings as well as for forcing others to participate in such events. They insist the fine should be increased from the current US$10 to up to $3,400 for citizens and up to $6,700 for civil servants.In addition, the bill introduces an alternative administrative punishment – up to 200 hours of compulsory community service, which now can be imposed only for criminal offenses.   "Our law protects protesters, but doesn't protect citizens who can't get home [because of the gatherings]. Participants of events leave piles of litter," MP Aleksandr Sidyakin, the author of the initiative wrote in his Twitter microblog. The lawmaker pointed out that proposed sanctions are "humane" compared to those used in foreign law. For instance, in France local authorities are entitled to ban any rallies and in Geneva participants of events that have not been agreed with authorities may face up to 100,000 euro in fines or a five-year ban on taking part in rallies.  "Organizers of public actions often instigate participants to violate the law. Indeed, this cultivates legal nihilism and even anarchism among citizens. Recent events have shown that some organizers and participants of political protests deliberately do everything to get detained [in front of camera lenses]," Sidyakin told journalists, as cited by RIA Novosti. Meanwhile, nickel-and-dime fines neither stop anyone from violations nor compensate for the damages caused by protesters' actions.  If arrests are replaced with large fines and compulsory service, there will be no illusions about "pseudo heroism" of detained protesters, Sidyakin believes. Ilya Yashin, one of the leaders of the movement Solidarity, believes the move is set to make it easier for authorities to repress opposition, writes Vedomosti daily. The opposition leader believes that if United Russia's amendments are passed, fines will become the main punishment for protesters. However, activists are ready for such developments and would easily collect the required money from supporters through the internet, he said.The leader of the Other Russia movement, Eduard Limonov, is also relaxed about the new initiative."Well, if they make us sweep streets, journalists would immediately gather to watch it," he is cited as saying.The Communist party has slammed a new draft law on the drastic increase of fines for violating the rules of street protests. "This is a crazy bill which violates citizens' constitutional rights to public expression of their attitude to what is going on in the country," said one of the party's top officials Vladimir Kashin.
One of the arguments of the bill's authors is that mass street rallies bother other people, first of all by obstructing traffic on the city roads and preventing pedestrians from moving freely.
"I guess the authors of the draft bill forgot that mass rallies in support of Vladimir Putin obstructed people in the same way," Kashin said.
You can share this story on social media: