Fair Russia: Protest clamp-down will cause mass riots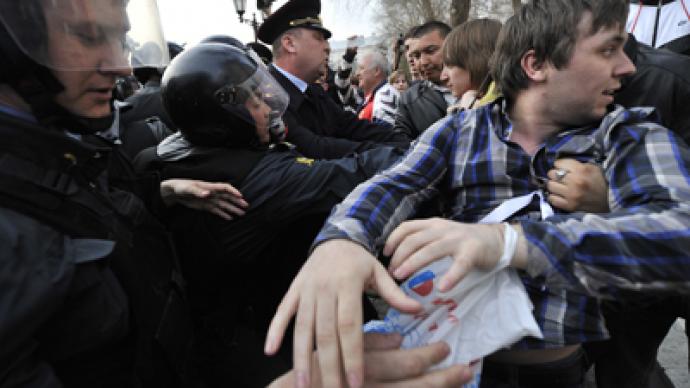 Tougher punishment for people taking part in unsanctioned rallies would only lead to new mass protests and "a very harsh conflict" within society, the Fair Russia party has suggested, commenting on draft legislation.
Earlier this week, the majority United Russia submitted to the lower house a bill that would make protesters who violate the law pay significantly higher fines or do compulsory community service.Fair Russia MPs stated they strongly oppose the initiative. "If the bill is passed, there will no longer be any dialogue in the State Duma between the opposition and the ruling power. We would have no choice but to resort to demarches and more radical forms of protest," Gennady Gudkov, deputy head of Fair Russia, told journalists on Thursday. The opposition would then urge "mass civil disobedience" and political strikes throughout Russia, he believes.United Russia's initiative is aimed at "tightening the screws," humiliating citizens and turning them into "criminals and bankrupts," Gudkov went on.The government has already politicized the Code on Administrative Offences, detaining activists at peaceful protest gatherings for a day or more, Gudkov stated."Now they want to make people who show they're active citizens sweep streets and pay crazy fines, too," he said, as cited by Interfax. This shows that the majority party has absolutely no understanding of the situation in the country, he added.Under the bill, organizers of street rallies would pay up to 100,000 rubles (US $3,400) for violations, while participants in such events would pay up to 10,000 rubles (US $340). Currently, the maximum penalty for such violations is 2,000 rubles (about US $67). The document also introduces an alternative administrative punishment – up to 200 hours of compulsory community service, which at present can be imposed only for criminal offenses.
You can share this story on social media: