Opposition parties seek new Election Commission before presidential poll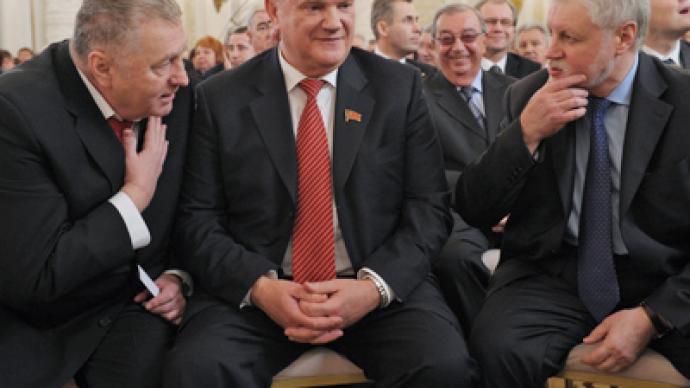 Leaders of three opposition factions in the lower house have prepared a bill demanding that Russia's new Central Election Commission is elected before the March presidential poll.
Gennady Zyuganov of the Communist Party of the Russian Federation, Vladimir Zhirinovsky of the Liberal Democratic Party and Sergey Mironov of the Fair Russia party submitted the suggestion to dissolve the Central Election Commission headed by its current chairman Vladimir Churov, and form new commissions starting from district level.The three opposition parties have harshly criticized the Election Commission for alleged violations in December's parliamentary election. The authorities acknowledged that some violations took place, but said their number was negligibly small and could not have affected the results. Vladimir Churov raised the question of his own dismissal at the commission's session in January, but the commission refused to vote on the subject. Churov has headed the commission since 2007, and was appointed to the commission again by President Dmitry Medvedev in 2011.The 15 members of the Central Election Commission are appointed equally by the Lower House, the Upper House and the President of the Russian Federation. The members themselves elect their chairman by a secret vote.In the bill prepared by the parliamentary opposition it was suggested to form a new commission with equal representation of the various parties. The State Duma will discuss the bill and vote on it on Friday. The head of the Central Election Commission is also invited to the Friday Duma session, but has not so far said whether he will attend.  "We will wait and see. I never discuss rumors," Churov told reporters on Tuesday.
You can share this story on social media: