End quote: Russia's colorful chief sanitary inspector replaced
Published time: 24 Oct, 2013 14:12
Edited time: 24 Oct, 2013 14:14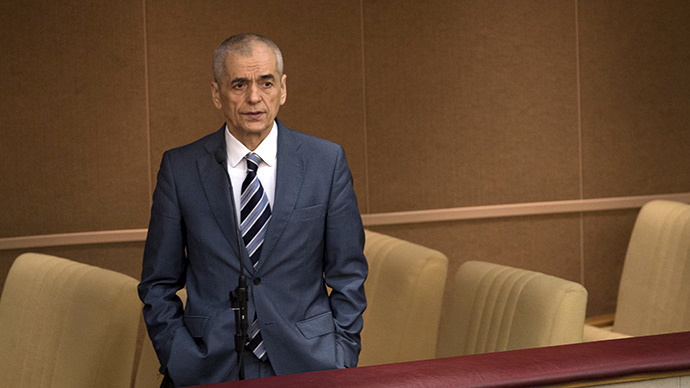 The Russian PM's press secretary has confirmed the sacking of Gennady Onishchenko – the head of consumer watchdog Rospotrebnadzor, known for his bizarre statements on health and lifestyle, as well as import bans.
Prime Minister Dmitry Medvedev signed the order to dismiss Onishchenko because his contract was ending. Onishchenko is 63 and Russian law only allows the hiring of people over 60 as civil servants on one-year contracts that need to be renewed annually.
While the chief sanitary inspector's reluctant departure drew a great deal of public attention, it was far from the most famous, or possibly the most popular story, involving him.
Onishchenko was appointed to the post in 1996, assuming the helm at Rospotrebnadzor on its foundation in 2004. Shortly after taking up the job he began to advise on topics relating to health, food habits and lifestyle. Sometimes his words were useful, sometimes quite obvious. Other times, just plain bizarre.
For example, he once said that schools should not teach physics and mathematics on Thursdays as this day has "complicated biorhythms." At the time of the bird flu scare he called for extermination of all crows. Once, the doctor announced that an average human should not sleep more than 25 minutes a day, because this time is quite sufficient for rest and anything else is "pure laziness." However, he admitted that he himself slept for three hours every night.
Many of Onishchenko's initiatives were worthwhile, including his relentless struggle against tobacco and alcohol consumption in Russia – leading contributors to low life-expectancy. However even they sometimes ended in weird PR stunts, like the suggestion to fight alcoholism by banning holidays, or advocating the ban on hookah pipes because producers allegedly put addictive drugs into hookah tobacco.
He also often emphasized his devotion to the Orthodox Christian faith and observed strict Russian fasts, but at some point announced that New Year celebrations amounted to the worship of Bacchus, and should therefore be shunned. He especially stressed that he did not advise conceiving children during the Christmas holidays.
Onishchenko has also repeatedly told Russians that they should eat less foreign foods, like sushi. This issue directly intervened with his work responsibilities – Rospotrebnadzor could impose or lift the bans on foreign products.
In different times the agency banned the imports of Moldovan wines, Lithuanian dairy products, Ukrainian chocolate, Latvian preserved fish and Georgian mineral water and wine. Sometimes the bans coincided with political spats between Russia and the affected countries, which prompted suspicions that Rospotrebnadzor and its head were not always directed by purely health concerns. Onishchenko has always denied these accusations.
As the official prepared to leave the agency he left his staff a memo, also in his trademark all-caring style. In it, Onishchenko recommended a total vaccination of all personnel who would be servicing the athletes at the 2014 Sochi Olympics, medical check of pilgrims returning from the Hajj and also to provide good sanitary conditions for labor migrants. Despite leaving the post, Onishchenko finished the document saying he retains the control over these last orders for himself.
The former chief sanitary inspector's tendency to expand his influence as well as creating his own PR apparently caused phone pranksters to play the joke on him immediately after his resignation.
The web-site of the state news TV channel Vesti-24 posted a record of the prank in which Onishchenko was jokingly offered the job of a TV host on a popular health program on Channel One television. Onishchenko agreed, but said he had little experience as a journalist and suggested that the callers find him a co-host with professional training.
According to the Russian PM's press secretary Natalia Timakova, the former head of Rospotrebnadzor has been already appointed an aide to PM Dmitry Medvedev and will deal with issues similar to his previous field of expertise.
President's spokesman Dmitry Peskov has told reporters that he hoped that "the vivid and effective Onishchenko will be replaced by another manager who will be equally vivid and not less effective".
Onishchenko's deputy Anna Popova has been appointed acting head of the agency.