Russia, Norway agree on maritime borders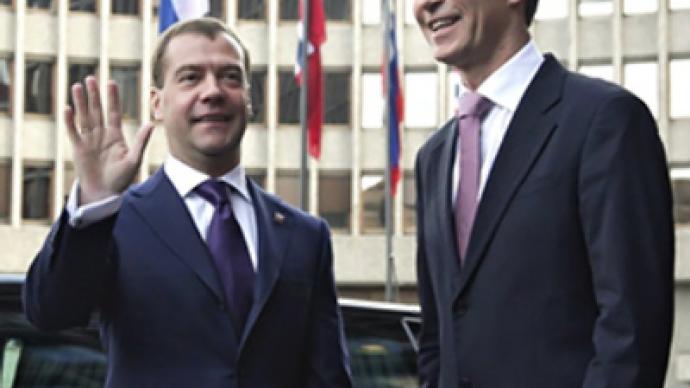 Putting an end to a 40-year-long row, Moscow and Oslo have signed a bilateral agreement on the demarcation of Russian-Norwegian maritime borders in the Barents Sea and the Arctic Ocean.
President Dmitry Medvedev and Norwegian Prime Minister Jens Stoltenberg met for talks in the northern Russian city of Murmansk. Following their meeting, the foreign ministers of the two states finally sealed a border deal that has been forty years in the making.
To come into force, the treaty now has to be ratified by the Russian and Norwegian parliaments. Speaking at a joint media conference, president Medvedev expressed hope that the process will be "synchronized" with the Norwegian partners.
"When agreements are being signed, it is done not for the sides to hide them in a dusty drawer afterwards and then suck the partners' blood," Medvedev noted, quotes Itar-Tass. "We hope that, together with our Norwegian partners, we will create an atmosphere that will favor the ratification."
Since 1970, Norway and the USSR, and then Russia, were disputing their economic zones in the Barents Sea.
The signing of the agreement on the maritime borders marks "a historic breakthrough" in the relations between the two countries, the Kremlin noted earlier. It should "create a new political atmosphere" which will strengthen trust and partnership, the Kremlin administration said.
"The significance of this event goes beyond a purely bilateral dimension. It is also a practical example of the implementation of the principle that all disputes in the Arctic must be resolved solely by the Arctic states through negotiations and on the basis of existing international laws," the Kremlin said, cites RIA Novosti.
The decision to sign the document was made earlier this year during Medvedev's visit to Oslo. Stoltenberg noted that he was really glad the actual signing occurred so soon after the initial agreement was reached in April.
You can share this story on social media: